The Profoto A10 is the Gucci of flash heads, it's the pièce de résistance, the cream of the crop. But unless you earn a serious amount of money from your photography, chances are you're not going to drop almost 1K on a flash head.
This truly is a flashgun geared towards professionals who are shooting commercial campaigns and getting paid a pretty penny to do it. On its own it's an excellent speed light, it's versatile, and perfect for shooting weddings and events or creative studio portraits, especially with the Clic accessories. Unlike so many flashguns, the Profoto A10 is very intuitive, it doesn't have a complicated menu system with lots of confusing settings and it can also be used as a constant light - a big plus for those who shoot hybrid.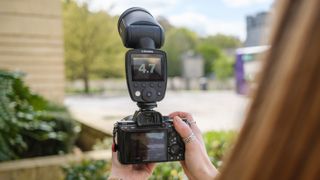 Specification
Max energy: 76 Ws
Energy range: 9 f-stops (0.3-76 Ws)
Energy control increments: 0.1 f-stops
Recycling time: 0.05-1.0
Energy stability: <0.2 f-stop
Built-in connectivity: Profoto AirX
Supported Air functions: Sync, TTL, HSS and remote control*
(*can be used as both receiver and transmitter)
Number of Air channels: 20
Number of groups per Air Channel: 6
Supported apps for Bluetooth devices: Profoto Camera and Profoto Control
Wireless operating range: 0.5-100 m (1.5-330 ft) with Profoto remotes*, 0.1-30 m (0.3-90 ft) with Bluetooth devices *in optimal conditions up to 300 m (1000 ft)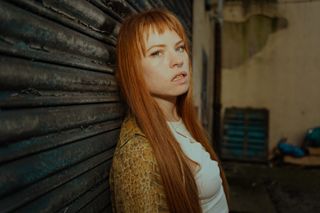 Key Features
One of the big advantages of the Profoto A10 over the Profoto A1X is that it comes with built-in Bluetooth connectivity which means you can use it when shooting with your phone. Of course, most content creators who shoot primarily on mobile are unlikely to spend almost $1,000 on a flash, however for portrait photographers who want to invest in a top-quality professional on-camera flash, it's really very hard to beat this one.
The Profoto A10 can be used alongside up to Profoto lights such as the Profoto B10 X Plus or on its own. It's size and weight makes it perfect for shooting things on the move such as events and weddings or even video using the modeling bulb.
There are two modes you can shoot in on the Profoto A10, either TTL (groups A-C) or manual (D-F). It can connect up to 20 other channels and shoot with lots of other Profoto lights. When shooting with the Profoto A10 on camera it can also be used as a trigger for up to four groups of other Profoto lights which means you wouldn't necessarily have to invest in a Profoto trigger straight away.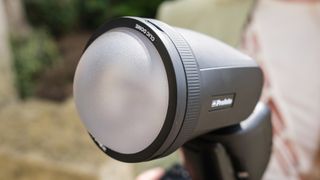 Build & handling
Built to last, the Profoto A10 feels very high quality with a smooth matte finish and an adjustable flash head that can swivel through 360 degrees and tilt from 180 - 45 degrees. On the back, there is a power button, a flash test button plus a wheel that is used to control the power settings.
When fitted onto your hot shoe, it can be locked in place by sliding the lock switch across to ensure that no matter what or where you're shooting, it can't accidentally be knocked off. Even if you did forget to secure it into place however it fits very snuggly so is unlikely to just fall off anyway unless you really knock it hard on something.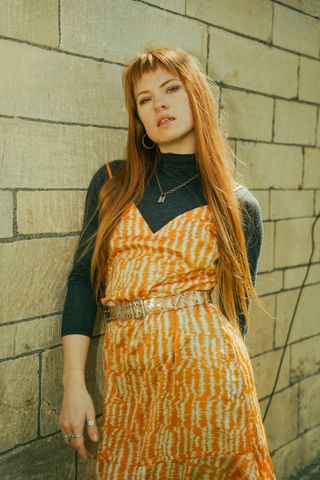 There is a range of accessories that can be used with the Profoto A10 including a range of Profoto Clic gels and grids which are perfect for capturing colorful creative shots or adding contrast to your photos. There are also several Profoto Clic light shapers that help create a particular look, they include barn doors, a snoot, an octa softbox plus a magnum reflector. While the accessories aren't cheap, they add an insane amount of versatility to the type of things you can shoot and the magnets used in the Clic accessories are very strong so they can't easily fall off.
At 560g with the battery, and dimensions of 7.5 (W) x 16.5 (L) x 10.8 (H) it isn't the smallest flashgun ever but considering how powerful it is and how well it performs, it really isn't an issue. When shooting for a long period of time, it can start to ache your wrist especially when shooting with a long lens but one of the best camera straps will help relieve the weight and give your arm a much-needed rest.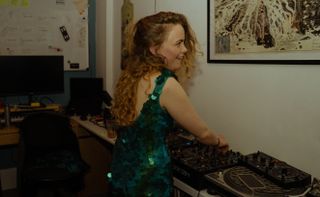 Performance
When it comes to performance it is hard to beat the A10. It is both consistent and reliable, out of more than 200 shots, not a single image was over or under exposed and the flash didn't misfire once.
With a maximum power outage of 76 Watts and an energy range from 0.10 - 10, it's able to compete against harsh midday sun or capture photos with atmospheric ambient lightning. It's very easy to take natural looking photos with the Profoto A10 especially when using the diffusion dome or bounce card that are included.
When shooting on full power, the A10 can take around 415 photos but this increases significantly when shooting at half or quarter power. On one full charge, I took around 650 photos at various power settings but I never used the modeling bulb. With the modeling bulb on constantly, you should expect a significant drop in the number of flashes you can get out of one charge.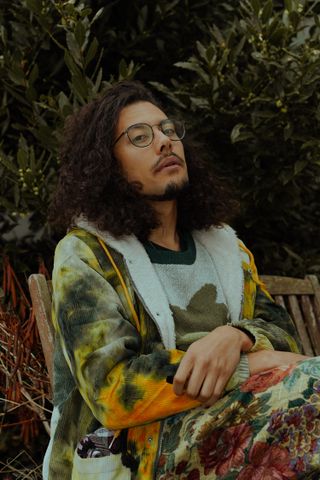 The flashes recycle time is insanely fast, so much so that when shooting at a lower power setting it almost looks like a strobe light. On the lowest power setting, it has a recycle time of just 0.05 seconds which means you will literally never miss a shot but even when shooting on full power the recycle time only increases to 1 second.
If you're someone who regularly shoots photos and videos, the Profoto A10 also includes a powerful modeling bulb that can be used as a constant light source. When used with the Clic Octabox, it gives a really nice, even spread of light which would be perfect for shooting interviews or even recording yourself vlogging.
If you're shooting sports or action photography, the A10 also has High-Speed-Sync (HSS) compatibility which means you can shoot as fast as your camera will allow you to.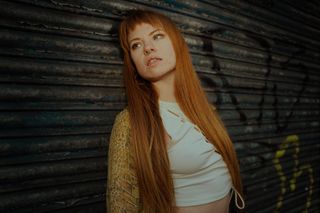 Verdict
If money is no object (and let's be honest that is the case for very few of us) I'd say go out and invest in the Profoto A10. It's an amazing flash that delivers consistent, beautiful light and can easily keep up with you thanks to its super-fast recycling time. You might think, "oh it's only 76 Watts" but that is plenty powerful enough to compete even against bright midday sun. It's also perfect for capturing very natural looking shots and getting into small spaces that other larger flashes with more power might struggle with.
There are a range of shooting modes and ways of controlling the light including with the Profoto triggers or via your phone or iPad. It's well made and benefits from a very simple layout that's easy to work your way around however, if you're after a similar round flashgun at a quarter of the price, the Godox V1 offers the same beautiful light fall off, admittedly the recycle time is slower but you save yourself a lot of money.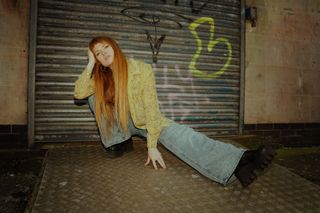 Read More: Find the best lighting for your shoot with our guides to the best photography lighting kits, the best video lights, and the best ring light.