So many content creators work alone or single-handed, and that creates limitations on the style of filming you can do. In particular, you can't follow yourself around a scene when you're in front of the camera and not operating it. But that's where the Pivo Max comes in.
Essentially it's a motorized horizontal panning device controlled by an app that can recognize faces, human bodies dogs, and, of all things, horses. As these move within the frame, the app turns the Pivo Max base to keep them centered. It's like having an automatic camera operator.
The best camera phones can now shoot video quality good enough for many professional content creators, and a device like the Pivo Max could push your production quality up yet another notch. But it's not just for smartphones, as you can also mount some of the best 4K cameras or best cameras for vlogging, as long as you don't exceed its 2kg payload – though you will need to get a hotshoe phone mount separately.
The Pivo Max is a relatively simple 360-degree panning base and the best gimbals can do the same job and more – but they are bigger, heavier, and much more complicated to set up than this handy bag-sized gadget.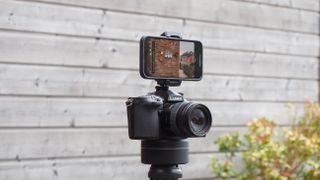 Specifications
Devices supported: smartphone, tablet, camera
Battery life: 10-12hrs
Movement axis: horizontal pan only
Rotation: 360 degrees
Weight: 356g
Max payload: 2kg
Key features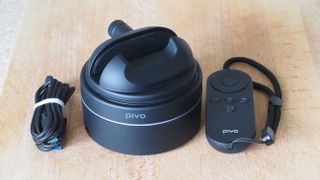 The Pivo Max kit consists of the Pivo Max rotating base, a remote for controlling the Pivo app on your smart devices, and a USB charging cable. The Pivo Max has a 1/4-inch tripod socket in the base so you can attach it to any regular tripod or quick-release plate. The base is pretty broad, so if you were filming with a phone you could probably rest it directly on a tabletop.
The Pivo Max comes with a pretty solid-feeling phone clamp with a locking screw that will keep your phone held tightly in either a horizontal or vertical orientation.
This can be removed to enable you to attach a camera directly to the base. You will then need to mount your phone on the camera, and this will require a hotshoe phone clamp which is not included – you will have to source one separately.
Build and handling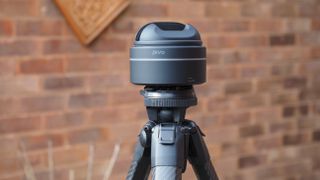 The Pivo Max does feel very well made. It holds your phone tightly and it has the power and stability to handle a camera and phone rig up to 2kg, though you'll also need a good quality tripod.
The Pivo app is straightforward to use and works very well. You can tap the buttons to set the controls while the phone is mounted or use the remote to operate the Pivo when you step away for filming. However, the buttons on our remote didn't all have the effect they were supposed to. The button for changing the subject type didn't do anything for example, so that meant going back over to the phone to do it on the screen, which was no great hardship, to be honest.
The thing to keep in mind is that while the remote can control the app and your phone's recording, it does not control a camera, so you will have to start/stop recording on the camera itself.
Performance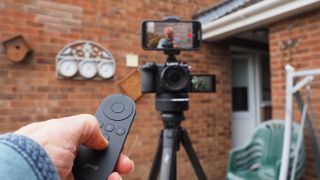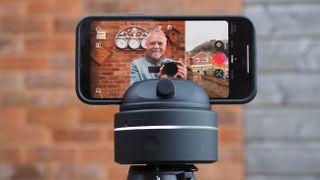 The Pivo Max worked brilliantly in our tests. It follows movement like a gimbal, with smooth panning (it only offers panning) and acceleration/deceleration at the start and end of the movement. It coped with the weight of our Lumix G9 and 12-35mm f/2.8 lens with no problem.
The face and body detection is very 'sticky' and works perfectly well at the distances you're likely to be filming at. If you move really fast you can leave the frame before the Pivo has caught up, but you really do have to be trying to trick it, and you can also increase the tracking speed if you need to.
You'll almost certainly want to be able to see yourself while filming, so that means using your phone's front camera so that the screen is towards you – though if you're feeling brave you could just trust the Pivo to follow you with the rear camera and check it seems to be moving as you do.
With a camera that has a flip-around screen, there's no such problem, and you can watch the screen to make sure you're properly in shot and that the Pivo Max is following you.
Verdict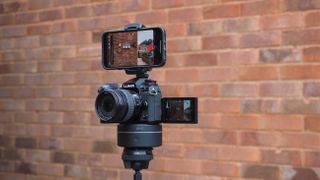 Now and again you get a product that just brings a smile to your face the moment you use it – and that's what happens with the Pivo Max. It's simple to use, smooth in operation and makes single-handed videos look as if they've been shot by a professional camera maker.
You could probably get most gimbals to do the same trick when mounted on a tripod and using a camera/smartphone combo with app-based subject tracking, but the Pivo Max is a fraction of the size and weight, doesn't need balancing and can be set up in just a few moments.
For creators shooting alone who need a gadget that can fit in a shoulder bag and be up and running in moments, it's just brilliant.
Read more:
Best tripods for smartphones
Best iPhone stands
Best iPhone printers
Best iPhone chargers
Best iPhone tripods
Best phone mounts for cars