Feel that digital photography is just a little too perfect? Aimed at photographers of all abilities and experience levels, and promising what's described as a dreamy filmic aesthetic with ethereal color-drenched images, and visible vignetting – along with the unpredictability this low-fi analog film brand is known for – the Diana F+ is claimed as one of Lomography's best-loved analog creations.
Though the Lomo version has been around since 2007, its origins can be traced further back to Hong Kong factory-produced cameras of the 1950s and 1960s. We're reminded of the look and feel of the Holga brand here too. We were sent the regular 'teal' and black version of Lomography's Diana F+ to play with here, though other variants, limited or otherwise, are also available; at one time there was even a glow-in-the-dark Diana F+ camera body. In addition there are even 35mm film shooting Mini, 110 film format, plus pinhole lens-only versions of the Diana.
But, despite its fetching retro appearance, can we overlook the Lomography Diana F+'s creaky toy-like build long enough to feel confident about loading a roll of 120 film onto its cheap plastic spools?
Lomography Diana F+ specifications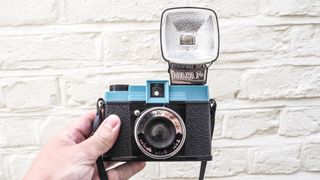 Lens: 75mm fixed, f/8 maximum aperture
Film type: 120 (medium format)
Viewfinder: Optical
Dimensions: 12.5x9.5x7.6cm, 5x3.75x3-inches
Weight: 220g
Key features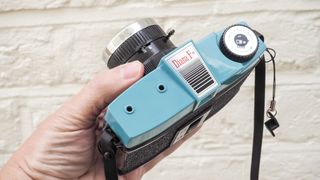 Very much a snapshot camera, the Lomography Diana F+ has a fixed focal length of 75mm, which suggests portraits as an ideal subject, is compatible with rolls of 120 film, can be tripod mounted and requires 1xAA battery to power its old school style clip-on flash, that can be bought as a kit with the camera body itself. This flash also comes with a set of nail file sized colored gels that can be slid in front of its bulb.
Lomography suggests the fun, analogue nature of the Diana F+ encourages experimentation with long exposures, multiple exposures, and layered effects and it comes with a choice of two shutter speeds.
In the case of the latter aspect, here it's similar to Lomography's Sprocket Rocket panoramic camera, which also features a lever atop the lens barrel that allows us to either select 'N' for normal exposures (1/60 sec ) or 'B' for Bulb or long exposures; the shutter staying open for as long as the shutter release lever is held down. Should you wish to experiment with this second setting, best make use of the tripod thread provided at the base of this model.
There's also a choice of two image sizes – via a plastic sliding switch on the back we can either select 12 full frame squares, or, if using a supplied adapter, 16 smaller squares. There are Heath Robinson style plastic masks supplied with the camera that can be fitted to its interior so we end up with 16 images at 42x42mm aspect ratio, or 'endless panoramas' at 46.5x46.5mm.
As well as rudimentary control over shutter speed, there is three-position zone focusing which we'll get to in a moment, plus a choice of manually selectable apertures linked to lighting conditions, including pinhole, f/8, f/11 and f/16 settings. Despite this relative 'sophistication' however, the build quality has us suspecting it'll be a case here of 'point and hope' as much as anything. This has to be set against the fact that the Diana F+ camera is very affordable; indeed its price tag almost makes it an impulse purchase for the curiously minded.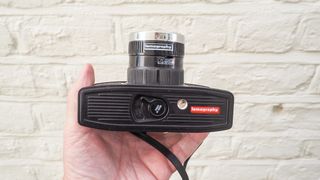 Build & handling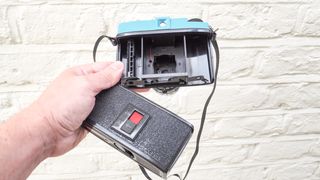 Though the Diana F+ may resemble a classic camera of yesteryear, its build is rather less robust. In fact it's distinctly plastic-y and toy-like. Even the thin plastic neck strap supplied resembles and old cassette tape that's become unspooled. This meant we found ourselves using the camera quite gingerly to avoid inadvertently snapping anything off through using too much force; even loading the film involves the bending of plastic to slot our roll into place. While overall the camera is too bit bulky to fit into anything except a roomy jacket pocket, it is however very portably lightweight, especially when compared to most digital examples.s
As with the likes of the panoramic 35mm shooting Lomography Sprocket Rocket, the Diana F+ benefits from a lot of available light to function at its best. Rudimentary it may be, but we admired the fact that the version of this camera sent for review included the big and bold clip-on flash, reminiscent of the type wielded by paparazzi in 1960s movies, which affords it a degree of creative flexibility and allows for interior shots.
But first things first; to load our roll of 120 film we need to nudge the lever at the base to the unlock setting, at which point the entire camera back can be manually slid down and removed. Once we've isrted our roll of film to the left and threaded it through the take-up spool on the right, it's a case of sliding the back into place again and advancing our loaded film until we see a number '1' appear through the window on the camera back.
Aperture is adjusted via a four-way slider switch tucked on the underside of the lens barrel. Here there are four settings: cloudy, partially cloudy, sunny and pinhole – the later for if we want the more obvious and pronounced vignetting effect. Focus is adjusted by rotating the dial tucked within the rim at the front of the lens, with a choice of three available distance settings. The first option is between one and two metres from our subject, best suited to single person portraits. The second option is between two to four metres from our subject, which is better for group shots, or, finally, a focus distance setting of between four metres to infinity, which seems the best option for photographing landscapes. Rotating this toy-like lens dial doesn't allow us to see any adjustments in real time through the cheap plastic optical viewfinder however. In fact, other than allowing us to get a vague idea of our compositional frame, the viewfinder is pretty useless. So, as usual with Lomography cameras, taking pictures is a 'point and pray' process of trial and error. Which should be looked on as part of the fun and enjoyment of using the Diana F+. If we want razor sharp, finely focused and perfectly exposed images then we'll need to look elsewhere.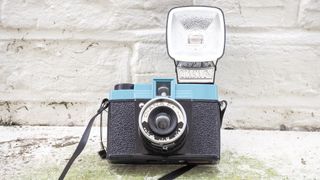 Performance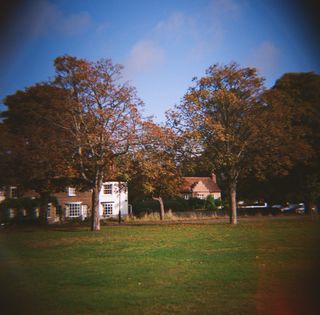 The Lomography Diana F+ is the usual frill-free image capture device we've come to expect from the brand, suitable for both beginner and enthusiast. At the same time it feels like there must be some sort of black magic involved in the fact that a camera this defiantly cheap and plastic-y is nevertheless capable of producing images.
Rather than via a shutter button being located on the top plate, this camera takes pictures via a downward flick of a shutter switch on the top hand side of the lens barrel.
It took us a while to get our head around it before using the camera, but essentially when we've shot our 12 exposures, the take-up spool becomes the exposed film spool, meaning we remove the film and spool in tandem when unloading.
It's good practice to then take out the now empty film spool from the left hand compartment, and it move it over to the right, where it becomes the take-up spool for our next 120 film roll.
Until the penny dropped we were initially confused to find our film spool in the left hand compartment when YouTube demonstration videos on how to load the camera showed it positioned on the right. Having familiarised ourselves though, it wasn't an issue going forward. Before taking the exposed roll of film out, it's similarly good practice to wind on a little further than we think we need after all 12 frames have been exposed, just to be on the safe side.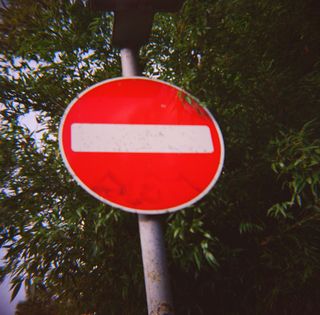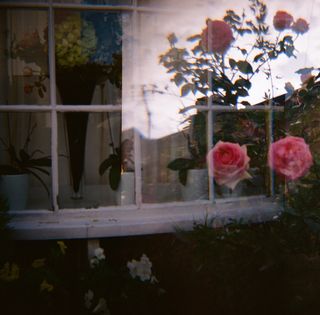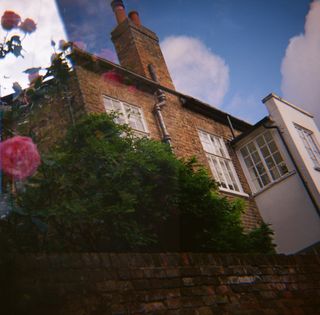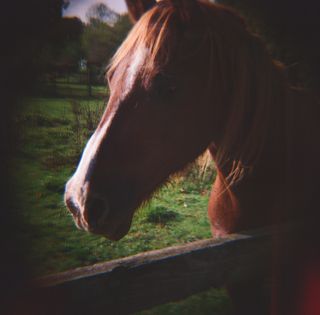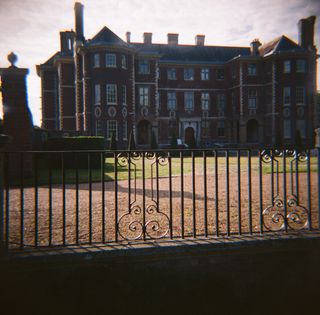 Versus
Lomography offers a very broad range of very affordable and slightly less affordable point and shoot film cameras, including several to bear the Diana name s touched on in our introduction. Having used its 35mm Sprocket Rocket before the Diana F+, we appreciated the locking mechanism at the base of the latter. With the 'Rocket we were never quite sure if its plastic back would inadvertently pop off and expose the loaded film in the heat of the action. The alternative to getting a new film camera from Lomography is to go the second hand route of course, though here prices have been creeping up. Nevertheless we did manage to find quite a few Kodak, Agfa and Halina vintage 120 roll film cameras on the world's biggest auction site for cheaper than, or comparable to, the contemporary era Diana F+.
Verdict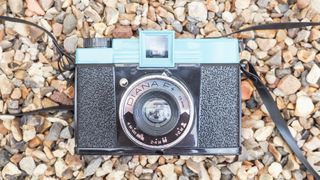 Nobody would choose the Lomography Diana F+ as their one and only dedicated, standalone camera. You're much more likely to purchase one if you already have an extensive collection of high tech gadgets and gizmos and are actively seeking something a bit more rough and ready, irrational as that may seem, for results that stand out from the crowd.
Fashioned from plastic that audibly creaks when the camera is in use, the accent here is on fun rather than gallery quality photography. That said, double exposures with the camera, intentional or not, plus vignetting would be classified as 'art' by some.
Ultimately it's best if we don't have high expectations – the hit and miss nature is all part of the Lomography's plastic novelty-like charm after all. So it's best to simply embrace the low-fi madness. The naturally curious and the creative minded are the ones who will get the most out of Lomography's Diana F+.