The Honor 8X was one of 2018's most impressive affordable smartphones, combining a big screen with tiny bezels and plenty of power; upon launch, it was elevated to best-in-class budget phone status and held the top spot for most of the year. Now, its successor, the all-screen Honor 9X has hit shelves, complete with a pop-up selfie camera and no less than three sharpshooters around the back, despite a budget price.
Working against it is a Kirin 710F processor - a midrange chipset, as well as no NFC, so contactless payments aren't an option. There's also no telephoto camera, with the Honor 9X instead featuring the same setup as found on the ROG Phone 2 and Asus Zenfone 6 - a wide and ultra-wide camera. This means that the 9X won't be gunning for the best camera phone crown.
Loaded up with an ample 128GB storage and either 4GB or 6GB RAM though, not to mention a huge 4000mAh battery combined with a starting price of under £250 in the UK, with no US release expected, does the Honor 9X have what it takes to etch itself into our smartphone hall of fame like the 8X did?
Camera specs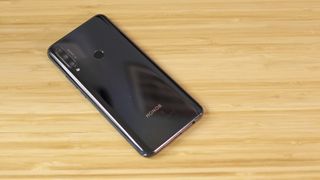 The Honor 9X is the umpteenth phone to launch with a Sony-made 48MP camera sensor this year. The module has featured across devices like the pricier Xiaomi Mi 9T and the more affordable Redmi Note 8T, but Honor always applies a special sauce to its shooting modes.
Before we dive into those, let's start with specs, and the 9X's primary 48MP sensor features a 1/2.0" sensor with 0.8µm pixels. The module also supports PDAF (phase detection autofocus).
The additional shooting camera is an ultra-wide-angle combo, with an 8MP sensor matched with an f/2.4, 13mm lens.
There's another camera here too, a 2MP f/2.4 depth sensor, but naturally, it won't take pictures independently. Finally, the 16MP selfie camera pops up out of the top of the Honor 9X, enabling that all-screen design. It also features an f/2.2 aperture with a 26mm wide angle lens.
Shooting modes: The Honor 9X's camera shooting modes are incredibly comprehensive for a midrange smartphone. In addition to the now-standard Photo, Video and Portrait modes, there's an extended exposure Night mode, an Aperture mode so you can refocus subjects and play with background blur post-shot, Light Painting, Pro mode - supporting an ISO of up to 3200 and a 30-second shutter speed, and more.
Camera performance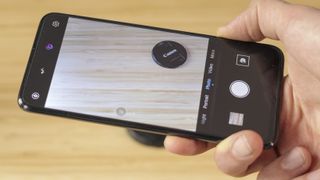 With a default shooting resolution of 12MP, the Honor 9X can capture plenty of detail even without ramping things up to the sensor's maximum 48MP resolution.
Just like the OnePlus 7T Pro, it down-samples the pixel-count to deliver better noise-handling and dynamic range in challenging conditions, though in good lighting or manual mode with a long exposure, you can afford to shoot at the camera's full resolution.
The 9X's primary camera is incredibly competent in well lit environments given its price. Detail is sharp, and it's able to handle high-contrast scenes relatively well. That said, the ultra-wide camera can struggle; 8MP is the lowest resolution we'd expect from a secondary camera on a phone these days, and the ultrawide doesn't give you much room to play with shots once captured.
When the lights drop, things across both cameras can get muddy, with detail in shadows being completely lost. This is particularly noticeable when capturing tricky objects like black cat fur, but it even struggles with typical scenes like night skies.
Fortunately, the night mode comes to the rescue for the main camera, helping out with exposure times of in-excess of 20 seconds if you can steady the Honor 9X on a surface. That said, the long-exposure trick also works when shooting handheld, grabbing a roughly 4-second exposure, though this doesn't work nearly as well.
This night mode also doesn't engage the ultra-wide camera, which is a shame and relegates the secondary camera's use exclusively to well-lit conditions.
Fortunately, the depth sensor seems to work across a range of conditions, from well-lit to indoor. It was able to generate respectable separation between background and foreground, and if you shoot in aperture mode, you even have the option to adjust the focal point after a shot is taken.
With a maximum video resolution of 1080p at 60fps, the Honor 9X falls behind on this front. Significantly cheaper phones like the Redmi 8T feature 4K capture now, as does the Oppo A9 (2020). Still, capture is held together well, with electronic stabilization helping things along, and unless you're shooting in middling to low light, detail is on-point.
Honor 9X sample images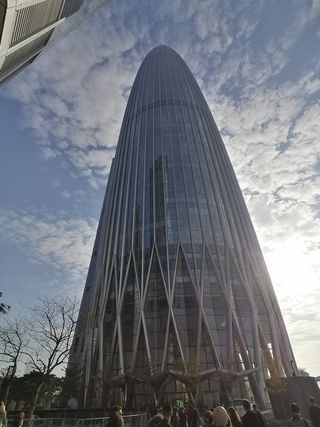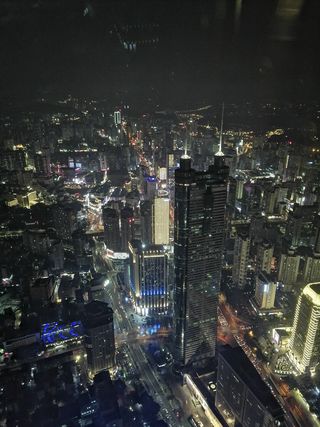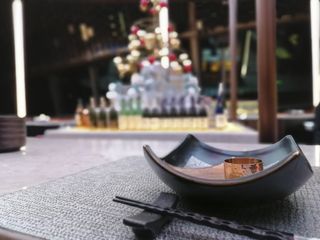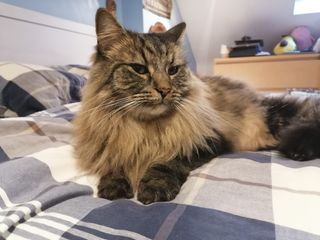 Interface and performance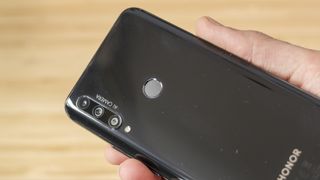 Given the fact Huawei owns Honor, it's worth noting that the Honor 9X has full access to Google services if you're buying it in the UK. In turn, unlike the otherwise excellent Huawei Mate 30 Pro, app support is excellent on this midrange smartphone.
Powered by a Kirin 710F processor, it has enough power to handle 2D and 3D games alike, though it won't showcase them with the smooth frame rates you'll get in flagship devices. That being said, we reviewed the 6GB version and were able to play demanding titles like Injustice 2 without any issues or slowdown.
The phone packs plenty of space for all your files, with 128GB storage as standard, though you can bump this up by half a terabyte with a microSD card.
The lack of NFC is the worst thing about the Honor 9X in our opinion. Contactless mobile payment has become a standard, and with much more affordable phones like the Redmi Note 8T now including it, the omission is felt.
You get a lot of great stuff here too; there's a huge 4000mAh battery that easily makes it through a day, a USB-C port for charging and data, a responsive fingerprint scanner at the back of the phone and the Honor 9X ships with a case in the box as well as a pre-fitted screen protector.
Speaking of that screen, it's a 6.6-inch LCD tour de force for the price. The pop-up camera enables a futuristic full-display look that makes notched phones look dated, and with a Full HD+ resolution combined with a tall 19.5:9 aspect ratio, it's well optimized for movies and TV shows.
The inclusion of a headphone jack will please audio fans, though we did find Bluetooth audio quality to be a bit hit and miss, with spoken word sounding a touch robotic - we have reached out to Honor to identify if this was just an issue with our device.
Honor 9X verdict
The most natural device to compare to the Honor 9X is the Motorola G8 Plus. They feature very similar on-paper camera setups and price-to-performance.
Where the Moto G8 Plus edges ahead is in its stock Android interface, which may please some. It also charges a bit faster, delivers stereo audio tuned by Dolby, and packs a bit more power.
The Honor 9X is our pick in terms of design, with its all-screen display looking unique at its sub-£250 starting price. It also packs double the storage of the G8 Plus as well.
Irrespective, both are excellent given their prices. With incredible budget camera phones like the 48MP Xiaomi Redmi Note 8T having launched, and OnePlus expected to enter the affordable space in 2019, however, the competition is chomping at the bit for some of that sweet best budget camera phone market share; Iet's see if Honor can stay ahead of the pack in 2020.
Read more
Best budget camera phone