For those looking for the best thermal camera (or at least cameras within reach of consumers and small businesses) has three form factors: pistol grip, phone attachment, and compact camera.
This is one of the latter, in hard rubber, which makes it suitable for anyone taking on electrical, plumbing, roofing, or HVAC tasks, or DIY. A built-in optical camera also helps make thermal images easier to comprehend as well as easing data acquisition for pros creating reports. Hikmicro also offers their high frame rate thermography, the advantage of which we'll come to.
Specifications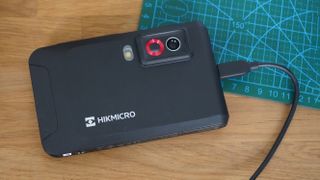 Thermal resolution: 256 x 192 (49,152 pixels)
Visual camera: 8 megapixels (claimed)
Thermal Range: -20˚C to 550˚C (-4˚F to 1022˚F)
Refresh Rate: 25Hz
Field of View: 50˚ × 37.2˚
Accuracy: ±2°C
Storage: 16GB built-in
Connectivity: USB
Size: 138 × 84 × 22mm (7.5 × 3.4 × 2.3 in)
Weight: 227g (0.5lbs)
Key features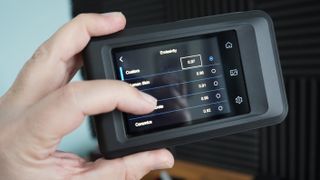 As we noted, one of the less obvious features of this camera is a 25Hz refresh rate. This stands out because many, if not most, thermal cameras are limited to 9Hz, which is quite juddery, but adequate for most tasks. Why the restriction? US export regulations (aimed at restricting access to military tech).
The higher frame rate might not be essential, but it makes the camera smoother and more responsive both when viewing and recording video (yes, it can do that). Other features include a microphone (those thermal videos come with sound), USB-C for charging and file transfer, and (in theory) WiFi linking to a HIKMICRO app.
Build and handling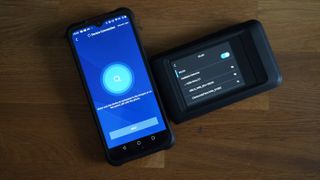 Opening the box reveals a nylon fabric-covered hard case with a zip. Inside that is the camera itself, a bit shorter, wider, and thicker than a large mobile phone, but in the same territory. The front features a recessed LED flash next to a protruding dual lens housing. On the back is a 3.5-inch touchscreen, with three adjoining touch buttons giving the impression of a larger screen. Both the lenses and screen are recessed back from the rubberized plastic shell to provide drop protection of up to 2m.
Basic operation is easy, a matter of powering on, waiting a moment, then shooting with the capture button – memory is internal. There is a tripod mount at the base and images and video are stored locally. Charging via USB-C is straightforward, and if plugged into a computer it shows up as a drive for file download.
We liked that the emissivity menu – in which you set the surface reflectivity to make the temperature more accurate – had a good list of clearly labeled pre-sets, helping novices.
Performance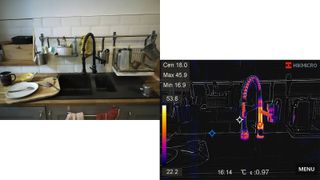 We like to test thermal cameras against insulation issues and other DIY tasks like identifying joists in ceilings. Powering up took 17 seconds from beginning to press-and-hold the power button – though it was prone to bouts of 'Calibrating…' after that too.
After that, core operations were straightforward. Strangely on the first boot the device was in plain thermal mode, which offers good resolution, but the hybrid – which overlays edge contrast from the optical image to clarify the view – is easily selected and makes for better imaging (which is easier to understand). Photos are captured with a shutter button; pressing and holding the same button starts a video recording.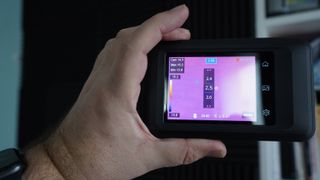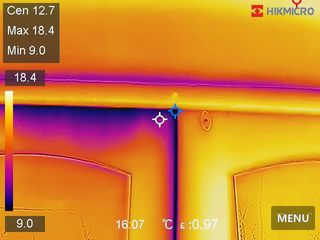 You can opt to record the visual image at the same moment, potentially useful for reports. Oddly the files are saved at 3264 x 2448 pixels (8MP) when the quality suggests closer to 2MP.
Admittedly finding the flash was less apparent; the screen needs a swipe-down gesture, but once you've found this you've found all the hidden menus, and while the operation isn't iPhone smooth, nothing will make you wait long.
According to the included guide, there is an iOS and Android 'Hikmicro Viewer' app, but we were only able to download it on Android and, even then, unable to make a connection. This is in marked contrast to the FLIR C5 Test, which has much better connectivity options.
Verdict
The Hikmicro Pocket 2 is a fine thermal camera, and in most use cases it feels well ahead of the game. Sure, the 9Hz rate common on competitors isn't a huge issue when assessing things that aren't moving – walls, radiators, cars in the garage – but it doesn't 'feel' right. Moreover, if you're looking to capture video, the 25Hz rate is far better (especially in Europe, Asia, and Australia). Since you can actually record video with this camera, it offers possibilities for creators on YouTube, TikTok, and the like.
The hybrid camera is excellent, and with a better thermal resolution than others, the images are more than useful. We can't deny it is a worry that the app option seemed unavailable (especially since WiFi and Bluetooth are built-in). Perhaps it'll be fixed, but rival FLIR cameras seem to be masters of software (see our Flir C5 review) and this is a factor if you're running a business, preparing reports, and collaborating.
For individual users, however, this seems a great choice. The tech is good, the menus – while still a bit quirky – surpass Hikmicro's E1L, and the camera itself is excellent.
You might also be interested in:
• Best thermal-imaging cameras
• Best boroscopes and inspection cameras
• Best rugged phones