FLIR are a leading brand in thermal-imaging cameras and have an extensive range of devices to cover nearly every application. Their technology, which takes the relatively low-resolution data from the thermal camera and combines it with contrast data from an aligned optical camera, has given them that position.
It has also taken thermal photography from a niche pro and military category into the "for the rest of us" territory, suited to any tradesman or sensible DIY enthusiast.
FLIR's rugged compact Cx series embodies that; there is a C3 with a 128 x 96 pixel thermal sensor and the C5 we're reviewing here which hikes that to 160 x 120. The C5 includes a 5-megapixel optical camera, as well as wi-fi and Bluetooth connectivity, meaning it's well suited to on-site checks for thermal issues like problem electrics, HVAC and insulation leaks.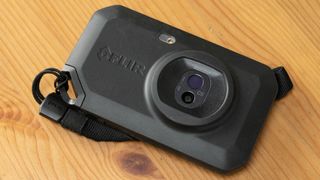 FLIR C5: specifications
Thermal resolution: 160 x 120
Thermal range: -20˚C to 400˚C (-4˚F to 752˚F)
Optical Resolution: 5MP
Field of view: 54˚ x 42˚
Connectivity: Wi-fi 802.11 a/ac/b/g/n 2 & 5GHz, Bluetooth
Size: 138 × 84 × 24 mm (5.4 × 3.3 × 0.94 in)
Weight: 190g (0.42 lb)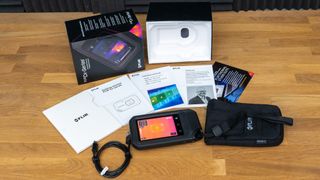 FLIR C5: build & handling
The device feels good straight out of the box, with a reassuringly firm design somewhere between that of a traditional compact camera (you know, from before the age of phones) and a phone with a thick rubber case protecting a protruding lens. This provides IP54 protection and we daresay a good level of drop protection too.
The cameras are fixed-focus, operating at any distance over 30cm (11.8in), meaning operation is straightforward and at these resolutions misses nothing. There is also prominent FLIR branding and a phone-like flash.
At the top of the housing is a recessed power button and a longer shutter button. Viewed from the back the left side features a USB-C socket for charging the 4-hour enclosed battery, while the lower-right corner is home to a loop for the included wrist strap and a standard ¼-20 UNC tripod mount.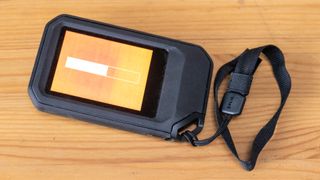 FLIR C5: performance
The C5 produces standard JPEG images (and has room for about 5000 onboard), making for a very practical device. The thermal sensor can capture a range of up to 400˚ C (572˚ F) – more than enough to identify thermal issues – and the accuracy of ±3°C (0 to 100˚C) and ±3% for higher temperatures is well suited to everyday use. The device is at its most accurate in a typical working environment, 15 to 35˚C, ambient temperature, which you'd expect.
We found the straightforward measurement functions handy and easy to read; a spot reading or the choice of a box with minimum and maximum readings – saved straight onto the image – may not seem pretty but they do what's needed.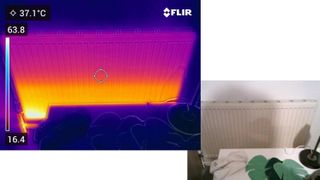 Because the camera stores both images and uploads them to FLIR Ignite – a cloud platform that is easy to use – it is easily possible to review your work from a computer or phone and take out a number of different views including picture-in-picture, or alternative thermal spectrums. The only usability snag was the lack of file organization by date taken (it uses date uploaded), though the capture time is in the metadata.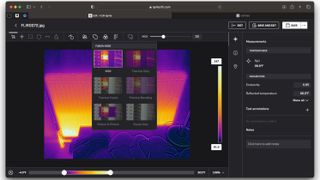 FLIR C5: Verdict
The FLIR C5 compact thermal camera is a brilliant thermal-imaging device that does exactly what is promised on the box, and in a manner that makes its output easy to use in a report. Whether you're preparing a report on a boiler or examining wiring or insulation, the fusion images are easily captured and – perhaps more importantly – easily understood. People with no understanding of thermal imaging (beyond having seen Predator) will instantly understand the output.
FLIR's Ignite tool helps make this even easier, being easy to set up and providing a home to 1GB worth of images before payment is needed.
Our only slight reservations are battery life and the lack of GPS. Four hours between charges is plenty for most, but a whole day would be impossible for a pro. Similarly, busy pros going from site to site might like GPS (or the ability to source location data somehow) to make completing metadata easier.
These are minor points that won't affect most users. With energy prices being what they are, it's easy to imagine this paying for itself as it can reveal insulation issues as easily as faulty electronics.