Drones have been in the headlines for all the wrong reasons recently, what with UK airports closing because of a number of drone-based incidents.
Those who are dedicated to drone flying, however, won't be deterred by such stories and if CES 2019 is anything to go by, the future of drones is looking rather rosy.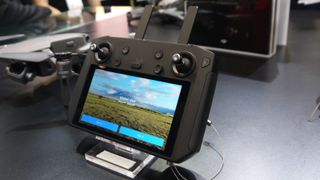 A highlight of the show was the superb DJI Smart Controller. This drone controller is one of the most advanced we have seen and seems to be the perfect partner to the Mavic 2.
The device has been equipped with a 5-inch touchscreen, which is just the thing for controlling your drone in the air. It links up with the drone using OcuSync 2.0.
The first thing of note about the screen is just how bright it is. Even with the stark lights of the show floor to contend with, the screen was brilliantly bright. DJI is claiming that the screen is around twice as bright as similar screens and we aren't going to argue with that.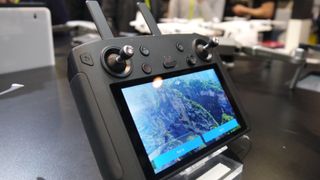 The only drawback is the screen is just 1080p so don't expect any 4K live streams just yet.
But there is a 4K option on board - through the HDMI port you can playback 4K footage at 60fps.
The design is nice and intuitive. In the hand, the DJI Smart Controller is a solid thing. It's pretty portable, too, with the added bonus of having detachable control sticks.
The stuffiness of the convention center didn't allow us to try out this specific spec, but DJI believes that controller will work in some rather extreme environments. It will still work and be nice and stable if you are flying the drone in-20°C to 40°C temperatures.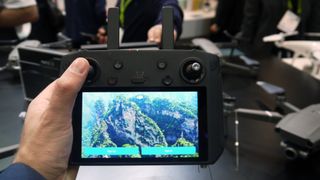 The controller is also a handy place for coordinating your images and footage. Through the controller you can transfer your aerial photos and videos straight from the DJI Smart Controller to a phone or tablet, using the Go Share function on the DJI GO 4 app.
Other features on board include a mic and speaker which you can use for live streaming. DJI really wants you to be as social as much as you can with this device.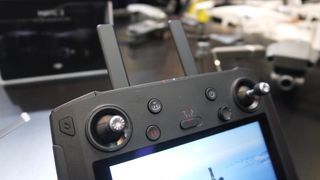 It's added something called SkyTalk to the controller, which can be used to share your drone flights on Facebook and Instagram. It's also a handy editing tool where you can create and upload short videos of your endeavours nice and quickly.
All of this sounds like a massive battery sink and a claimed battery life of 2.5 hours does prove this - but it should be more than enough to keep your drone sky high.
The DJI Smart Controller is available now and will costs $649 / £579.