I'm on the mailing list for new Google launches, and when the official Pixel 8 series email came through, I saw the Magic Editor tool demoed in gif form, and my heart sank. In approximately seven seconds, what started as a photo became something altogether other. After removing a background object, moving a subject across a beach scene (generative AI filling in the blanks), totally switching out the sky a couple of times, and then adding a golden hour filter to the whole thing, a bland daytime shot became a stylized lie.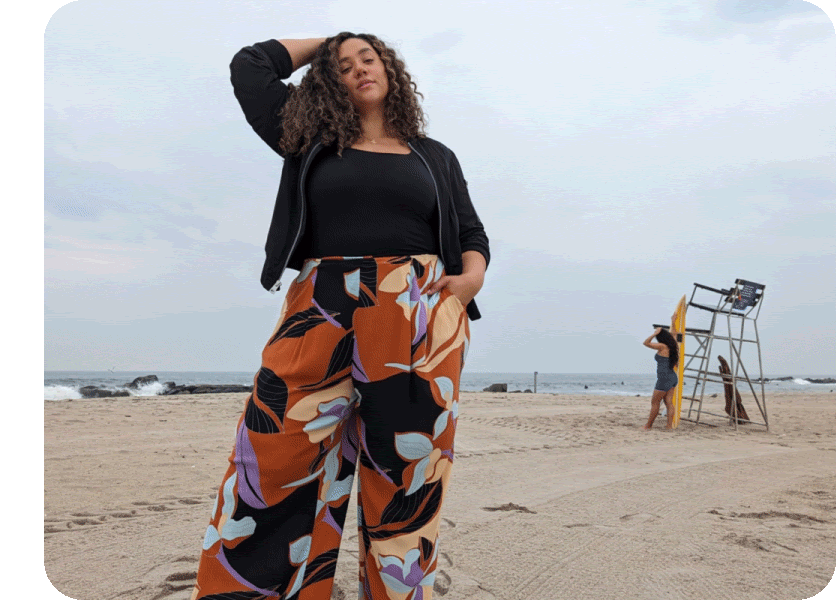 I'm conflicted about AI and photography. As a technology journalist, I know I don't want to 'get left behind', and I don't anticipate the AI floodgates closing. But I'd also like to consider myself a stalwart of the truth, and without clear disclaimers, generative AI is ultimately a precision-tooled lying machine.
After a week with the Pixel 8 and 8 Pro, it's clear that these phones aren't about gaming power, being the thinnest or lightest, or the best value for money. The new Pixels are the first phones whose key selling point is AI, and that's both exciting and alarming.
Magic Editor in action
Smart AI and AI-like experiences are peppered throughout the whole Pixel 8 experience. Live transcriptions of voice notes and videos, Google Assistant call-screening, and even battery management are tuned based on your specific needs with machine learning algorithms. But the aspect of AI that Google's pushing the hardest in its marketing is photography, or more specifically, photo editing.
Open a photo on the Pixel 8 – it doesn't have to have been taken on the phone – tap Edit, followed by the Magic Editor icon in the bottom left corner of the UI, and once your photo is backed up to Google's cloud, the reality distortion begins.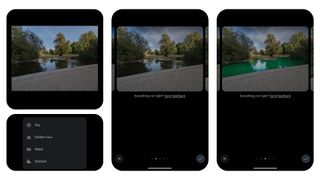 Depending on what's in your shot, you can access portrait optimizations, totally swap out the sky for a different one, generate some heavily stylized options, or apply a Golden Hour filter. Each time you generate a new set of images, you have four options to pick from, and if none fit the bill, you can keep generating another four until one does.
If your photo has an object in it, draw around it with your finger to select it, then move it around the frame at will. Generative AI will fill in the background behind the moved object or, using the same smarts, it can erase objects altogether.
AI for all must be good, surely?
At its Max 2023 keynote, Adobe doubled down on its commitment to AI, likening its use in creative spaces to the advent of photography and desktop publishing. However fair these parallels are, they don't detract from how scary this pace of change can be for anyone whose livelihood feels endangered by these technologies.
As a result, encouraging everyone to embrace AI is no bad thing. AI is fast becoming baked into the creative industries, and anyone not using AI to some degree is competing against others that are, and could eventually find themselves unable to keep up.
On a level, therefore, I do applaud Google for making AI editing so easy. Google puts what professionals who use Adobe Creative Suite and Canva have had access to for a while in people's palms without the need for a third-party or web app. By naturalizing the process, the Pixel 8 and its Magic Editor could be seen to be democratizing the inevitable.
What about the truth?
In the case of Photoshop's Generative Fill tool, Rod Lawton asked the question: is photography evidence or art? If it's art, then generative fill doesn't go any further than what Photoshop could do in the past; it just saves time. As evidence, though, generative fill and the Google Pixel 8 Magic Editor make photos edited by either null and void.
I would put my neck out and say the majority of photos taken on phones are, in fact, evidence, not art. Whether you're sending a photo to family on WhatsApp or posting it to Instagram, the goal is, more often than not, to share an experience. By infusing it with illusion, that photo ultimately becomes a fantasy. Or taking it one step further, a lie.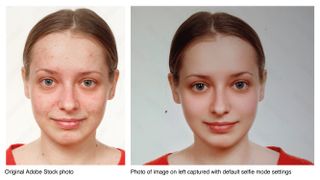 Other aspects of smartphone photography have fuelled this fantasy versus reality argument, including phone beauty modes. When I reviewed the Vivo X80 Pro, an excellent smartphone, its over-zealous beauty filter gave me the heebie-jeebies.
It isn't a stretch to argue, therefore, that Google's Magic Editor, and the way it's chosen to market the tool only adds to the unrealistic standards social media is often accused of perpetuating. Going further, it leads to the question: how can putting a convincing reality distortion engine in everyone's hands be a good thing?
The reality is that the feature is already in everyone's hands through apps or browser-based tools. The main difference with how Google is doing this is that it's using AI and this feature to sell its latest phone, packaging it up as part of the imaging experience.
While part of me dies inside every time I see that gif of the beach scene being totally transformed, my rational brain also knows this has been possible in Photoshop for years. The critical difference is that now, it's possible in people's palms in seconds, and with great ease. It's also worth noting that if Google didn't do this first, Apple, Samsung, or another smartphone maker probably would have eventually.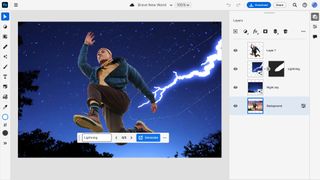 Wrapping up, my 73-year-old mum sent me a link on WhatsApp asking me if I've tried ChatGPT. After an online seminar, she's now using it for work and is raving about it.
I think AI imaging and Google's Magic Editor live in the same shades of grey territory as my mum's latest BFF, ChatGPT. Yes, both have the potential to undermine the skills of experts. They can also empower anyone with a smartphone to create in a way they never thought possible.
Adobe stressed in its 2023 keynote that AI can ultimately free creatives up from living in the weeds of mundane tasks, creating time and space for more creative thinking. I'm hopeful that is the silver lining of AI at large, and the Pixel 8's Magic Editor is one step towards that reality.
Interested in finding out more about AI? Check out our guide to the best AI image generators. Or for less artificial assistance you can stick to some of the best photo editing software.