The cost of flash lighting used to be significant enough of an investment to keep it as the reserve of only the most affluent of photographers or large studios, but we are thankfully now in an era where photography has become more accessible than ever, with new brands driving the cost of equipment down, without also lowering the quality. The Godox AD-Pro stands as a testament to this philosophy, offering photographers a blend of power, portability, and adaptability that's within reach of anyone hoping to improve their craft.
Godox AD300Pro: Specifications
Compatibility: Canon E-TTL II, Nikon i-TTL, Sony, Fujifilm, Olympus, and Panasonic TTL
Maximum power: 300Ws
Color temperature: 5600±200k
Flash mode: Wireless off (M/Multi), Wireless slave (TTL/ M/Multi), Optical
Flash duration: 1/220 to 1/10200s
Power output: 9 steps 1/256~1/1
Recycle time: 0.01-1.8s
Sync mode: HSS (up to 1/8000s), First-curtain sync, Second-curtain sync
Modeling light: 12W 3000-6000K±500K Bi-Color
Battery: 2600mAh (~320 full power flashes)
Wireless: Godox 2.4G X System
Size: 19.1 x 9.9 x 8.9 cm (7.5 x 3.9 x 3.5 in)
Weight: 1.25 kg (2.75 lb)
Photographers from diverse skill levels will find something to like about the AD-Pro range. From its compact and portable design to its impressive output, advanced features, and overall performance, these lights have fast become a staple in the toolkits of professionals and enthusiasts alike. There is a light for everyone in the Godox AD-Pro range, from the tiny AD100Pro, the uniquely designed AD200Pro, up to the very powerful AD400Pro and AD600Pro. All offer different power outputs but are built around the same fundamentals of portable battery power and one unifying wireless system for controlling any and all lights in the range.
The Godox AD300Pro slots roughly into the middle of the range, promising to deliver a consistent 300W of lighting power but also be as compact and portable as possible. The light is made to be used outside or in the studio, with a rating of around 320 full power flashes using its rechargeable battery as well as compatibility with Godox's 2.4G X wireless system that is compatible with seven of the major camera brands. With power, versatility, and an appealing price point, whether you're a seasoned professional seeking a portable and high-powered lighting option, or an aspiring photographer looking to take your work to the next level, the Godox AD300Pro could be the answer you've been searching for.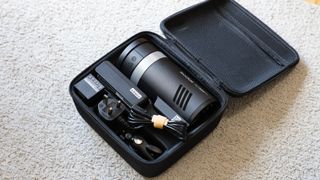 Godox AD300Pro: Design & Handling
The AD300Pro is a small and lightweight flash, rather than the more boxy shape of the AD400Pro, it matches the soda-can-like design of the AD100Pro, although can't match that light for its incredibly tiny size. It comes with a screw-in AD-E2 light stand bracket which is removable making it handy for storage or mounting into other brackets, or the AD-E2 can do double duty as a handle for hand-holding the light.
The AD300Pro comes with a hard shell nylon carry case that makes transporting the light as well as keeping it all together much easier. The case is of good quality and has molded areas for each part for the flash keeping it organized and secure. The case slipped into my camera backpack easily enough, although while the flash is lighter and easier to carry, you'll still need to carry a stand and modifiers.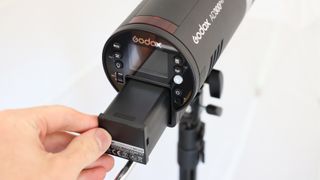 Speaking of stands, the AD300Pro is so lightweight that you might find attaching large modifiers to it causes it to easily topple over, as mine did a few times, so you'll need to ensure you have a sturdy wide-legged stand or sandbag the back of your stand to keep it anchored to the floor.
Like me, if you already have a collection of Bowens mount light modifiers you might be disappointed to learn that this light, like Godox's other AD-Pro range of lights, uses Godox's own mount. This mount is slightly smaller than the popular Bowens mount, which suits these more compact lights, but there are far fewer Godox mount options out there than the hundreds of Bowen's mount modifiers available right now. The good news is that you can buy an adapter ring that can slot into the front of the light so you can use Bowens, Elinchrom, or Profoto modifiers, however, this is an additional purchase, and I also struggled to find it widely available online.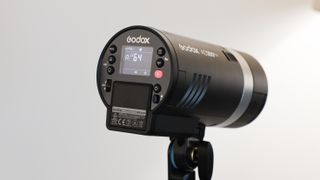 The build quality of the light is very nice. Sure, it is quite plastic-y but the light feels solid and weighty and like it could survive a few topples to the ground and live to tell the tale. The buttons and screen on the back make the light very easy to control, the buttons are a little mushy, but I found I didn't have to press them all that much with Godox's excellent wireless control built in.
The battery power of course allows you to use this light absolutely wherever it is needed including outdoors, although with no weatherproofing the flash is only really good to use outdoors in good weather. The battery makes the might so much easier to work with, I could position the light in awkward-to-reach places without having trailing wires getting in the shot. In the studio, this really helped me as my power sockets are not well placed, which meant using wired lights was always a bit of nightmare, and I have definitely pulled wired lights over a few times standing on wires.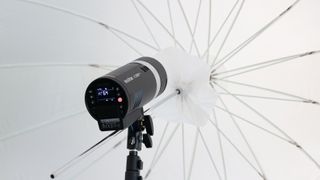 Godox AD300Pro: Performance
The power from the light is enough for any small to medium-sized studio for full-length shots. For my portraits with the light only one to two meters away, I only needed to use the flash with a fraction of its power to give me the results I was after. The quality of light is also great – the color was consistent throughout my shoot, with no obvious or varying color casts over the series of images I shot. The AD300Pro has an internal fan that will come on after enough consecutive flashes for the temperature to rise, the fan is a little whiney, but the volume isn't loud enough to be annoying, and my music in the studio easily covered it up.
Using the Godox wireless trigger/controller worked absolutely flawlessly. I was using the Godox X2T, but the Godox X-Pro is also a compatible option. These triggers are available for all major camera hot-shoes, including Canon, Fujifilm, Nikon, Sony, Olympus, Panasonic, and Pentax cameras. I personally own the Canon and Fujifilm versions as I swap between the two systems. Settings changed on the trigger were instantly sent to the AD300Pro, after initially setting up the light, I didn't have to touch it again for the whole shoot and controlled everything from behind my camera.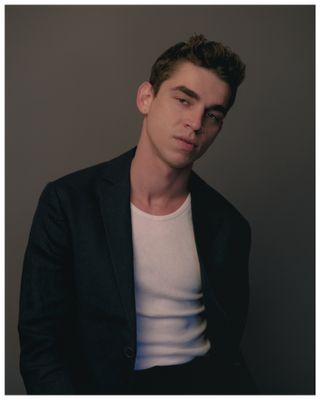 Godox's wireless system has also proved to be very reliable, so long as you separate it onto its own clean channel. I also separated the AD300Pro into its own group, with two AD100Pro lights acting as background and hair lights in a second group, this resulted in no interference between the different lights, or delays with each timed perfectly.
Battery life is very good. I got through a whole shoot of around 500 images with the battery still holding one bar of charge. I will caveat that by saying I did not use the flash at full power for the majority of the shoot (as it was too much power), and if I had the battery would have depleted much faster, but I still would have comfortably got around 300 shots at full power. The battery did recharge very quickly taking around 2 to 3 hours using the included Godox charger.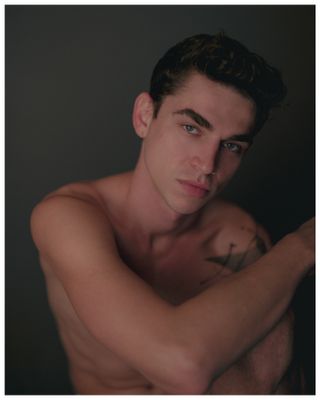 So your own battery life will depend very much on how you use the flash, but if you intend to buy this light to only use it at its maximum power then I would suggest looking at more powerful lights to improve your experience. Luckily spare batteries from Godox are not ludicrously expensive, so you can stock up on a couple if you intend to do a long day's shoot.
The flash also has a bi-color modelling light which is not the brightest light, and this is certainly not made to be a part-time video light. However, it is fantastic for both lighting your subject so that the camera can accurately focus and being a pretty reliable way to see how the light will fall from the flash bulb. The light is LED so doesn't get too hot, although the internal fan will power on anyway just to keep things cool, and the modeling light does flick itself off when the flash goes off so you don't get any unwanted light cast.
Adding a further touch of convenience, which isn't always featured in monolights, the main flash tube is easily user-replaceable if and when it fails, rather than requiring you to fork out for a costly service option. A replacement tube costs $119.
Godox AD300Pro: Lab tests
Swipe to scroll horizontally
Power output data

| | |
| --- | --- |
| Power | Gn (ISO 100, metres) |
| 1/256 | 2.5 |
| 1/128 | 3.2 |
| 1/64 | 4.5 |
| 1/32 | 6.3 |
| 1/16 | 9 |
| 1/8 | 13 |
| 1/4 | 18 |
| 1/2 | 25 |
| Full | 36 |
Maximum power output is everything we'd expect from a 300Ws monolight. These test results were measured with the standard reflector and protective, translucent flash tube dome fitted.
Swipe to scroll horizontally
Recycling speed data

| | |
| --- | --- |
| Power | Seconds |
| 1/8 | 0 |
| 1/4 | 0 |
| 1/2 | 0.5 |
| Full | 1.5 |
At flash power settings up to and including 1/4 maximum power, recycle speeds proved virtually instantaneous in our tests, official specifications rating them at around 1/100th of a second. Recycling is still fast at 1/2 and full-power settings, recorded at 0.5 and 1.5 seconds respectively.
TTL accuracy data: 0.5
In our tests using a Canon-dedicated Flashpoint R2 Pro 2.4GHz Transmitter, TTL flash metering was a touch on the bright side, equating to half an f/stop of overexposure. Even so, the results were impressively consistent in a wide range of shooting conditions and over varying distances, so you can reliably dial in a little negative flash exposure compensation if desired.
Godox AD300Pro: Final Verdict
The Godox Ad300Pro stands out as an exceptional off-camera flash, making it an ideal choice for a wide range of photographers. It strikes a perfect balance between delivering top-notch lighting quality, effortless wireless control, and a budget-friendly price point.
When used in a studio setting, its formidable power is more than sufficient for illuminating full-length portraits, all while eliminating the inconvenience and potential safety hazards associated with cumbersome wires. Moreover, this versatile flash can be easily utilized outdoors, making it a valuable tool for countering intense sunlight or enhancing the impact of nighttime photography sessions.
Godox's wireless control system sets the standard for user-friendliness and adaptability, accommodating even the most intricate setups involving multiple groups. Notably, the standout feature of this flash is its affordability, democratizing high-quality studio lighting and placing it within the reach of a wide spectrum of photographers.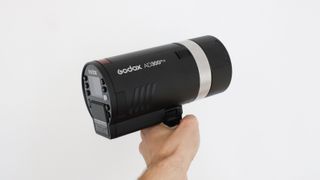 Should you buy the Godox AD300Pro?
✅ Buy this if...
You want battery power for shooting anywhere
You are on a tighter budget
You want a tight wireless system for controlling your lighting
🚫 Don't buy this if...
You already have invested in other wireless lighting systems
You want a lot of power
You want to be able to power the light from a mains supply
You might also like...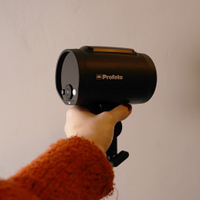 If you want the premium option, then there are few flashes out there with the build quality and handling of the Profoto A2. However, this option is over twice the price of the AD300Pro with only a third of the power.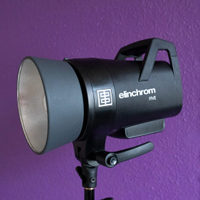 The Elinchrom Five delivers exactly what you want from a monolight – speed, and consistency, and works with hundreds of Elinchrom light-shaping tools. However, it comes at a much steeper price than the Godox AD300Pro