The world has moved on from the point that projectors were for cinemas, lecture theatres, sports venues, and exorbitant home theatre setups. There is now a highly competitive class of portable projectors that can be moved around the home or office, even serving as a backyard drive-in cinema in the right weather. They do not demand that their users have detailed knowledge of home cinema cabling.
That is the space the Emotn N1 steps into, and it does so by striking a deal with Netflix to pre-install the company's app and stick its logo on the box to really align itself with the Netflix-and-chill ideal.
So, plug in, point the device at a reasonably flat and white surface, type in your network password and you're good to go – that's the idea. In place of cables, there is a built-in operating system. The question is, given that this is a competitive field, does this give you the picture you deserve for the investment, and will you get what you want when you do want to source images from more than just Netflix?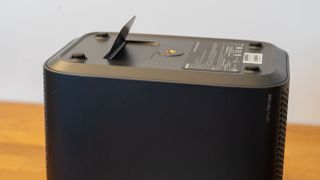 Emotn N1 projector: Specifications
Optical resolution: 1080p
Brightness: 500 ANSI lumens
Video: HDR10
Throw ratio: 1.25:1
Suggested max screen: 120-inch (3m)
Connectivity: HDMI, USB, Wi-Fi, Ethernet, Bluetooth
Speakers: Yes, 5W, Dolby Audio
Weight: 3.3Kg / 7.5 pounds (on my scales)
Dimensions: 182 x 125 x 192 mm
Emotn N1 projector: Build and handling
Opening the box is a promising experience. The Emotn N1 is well protected, but once removed just looks good. It is impossible to distinguish the speaker grille from the vents, which is no bad thing, thanks to the scattering. it would be nice if there was some kind of cover for the lens though. It's also a bit of a shame that the power brick is external and adds another 420g (nearly a pound) to the heft.
For a device deliberately designed to be portable, things are good but not perfect - the shape is nice and it's good to have a fold-out foot. In my "Coffee Table Test" the projector scores points for occupying a limited amount of space but, despite its fold-out leg, the base of the screen is more or less level with the height of the projector. Personally, my coffee table is lower than the point I'd like my screen to be, so I could either go find a tripod (there is a screw) or find a book to put under the front of the projector.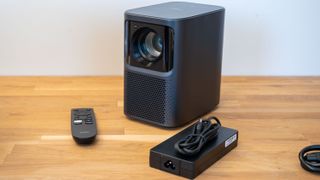 I found the guided setup process painless – there is a manual to resort to if needed. The oddest bit is 'pairing' the Bluetooth remote which doesn't come naturally for one who has grown up with normal IR. After that, you arrive at the homepage where you can access Netflix and Prime apps which both have very simple setup procedures.
The other features are arranged as apps too, so usability is a little like any other smart TV, though the system is definitely not up to the usability and flexibility of a Chromecast or Apple TV. Nothing will be a strain, though, so long as you have a reasonably white wall to project onto.
Emotn N1 projector: Performance
I was surprised by the quality of the picture from this device. You're not going to be able to work in a fully lit room (though you'll see the projection and be able to navigate the menus), but in the reasonable gloom that you might want to enjoy a movie you get a great picture.
It doesn't have some of the flaws you'll endure with other projectors, and it is brighter than others in the category. The keystone correction (the way the projector corrects the image when it is positioned off-angle from the wall) is also reasonably successful – I had to put it well over to the side before the jaggy effect became apparent, at least while viewing video; a windowed computer interface is likely less forgiving.
Throw-wise, the projector is not very forgiving; go a fraction closer or furder than the recommended range and you'll find that the autofocus won't work. It is, however, well suited to an average room so there shouldn't be an issue – just a note that the 120-inch limit is more true than you might imagine. You'd need a pretty dim room going bigger from this lamp in any case.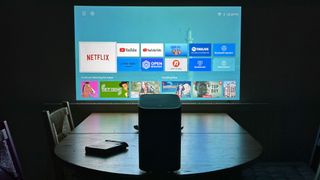 With 5W speakers, the audio isn't amazing. There is the option to tweak the range (including a dialogue enhancer, which is useful) but ultimately the sound doesn't have the cinematic bass or quality treble that a room-filling picture deserves. Not bad, just not amazing. On the flip side, the fan is considerably less obtrusive than with some projectors, so at least the audio that there is won't be lost in a fog of ventilation.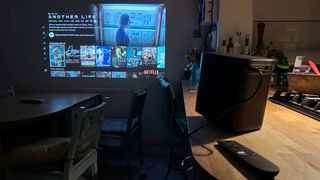 Delving into the software side of things, my advice is to pop into settings and make a few changes. By default, the brightness was only on 50% for one thing, but also the device has auto keystone and focus correction which can be set to be triggered by the motion of the device - I found it very useful while picking my favorite spot to have this turned on.
Setting up Netflix and Prime is easy as the apps are pre-installed. Exploring the App Store is nearly worthless (Plex is the only useful app I found - no Apple TV, Paramount, BBC, etc.) The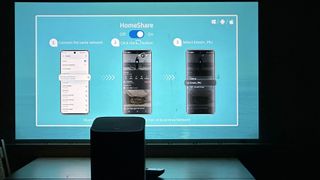 As for some of the sharing tools, it's not that they didn't work, but they weren't especially useful. I couldn't share my screen from an iPhone and the HomeShare tool only worked with the YouTube app. Trying to play from, say, the Disney+ app on my iPhone just failed. I had the same issue with the same software on the projector's sibling, the Mars.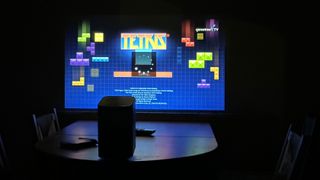 The app store did have some games in, though even if it had opened before I got bored I'm not sure how the remote would have helped me play it!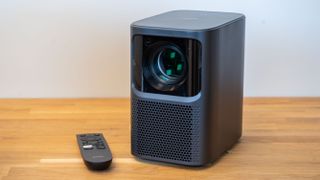 Emotn N1 projector: Overall verdict
For a portable projector, this is a good choice. It might not actually be the most portable – it's 3.3kg – but the 500 ANSI lumens HDR10 image makes this a sensible choice. The presence of Wi-Fi, adequate (if not amazing) speakers, and HDMI (if you're feeling more traditional) give you all the options you reasonably need. The remote, too, feels very home-friendly, with its Netflix, Prime, and YouTube buttons.
Sure, it might have been nice to have a built-in battery for true portability and a handle, but if you're setting up for at least the length of a movie that won't bother you too much. Yes the built-in custom OS is quirky but the HDMI socket means you can broaden your selection with a cable from a computer or a Chromecast easily enough.
If you're looking for a good value portable smart projector (and you don't mind helping out with any of the smarts except Netflix, YouTube, and Prime), then you're getting a great image and flexible device that beats most of its competitors on brightness and picture.
In very short, that makes it 4 stars for me because the I liek the picture quality for the investment and don't mind pluging something in by HDMI if it's not on Netflix, but it could easily be 1 star for someone who wants to play straight from iPhone wirelessly across a full range of video apps.