The Canonet G-III QL17 is one of the best selling cameras of all time. It was manufactured from 1972 to 1982 and about 1.2 million units were sold, so you can already assume it has to be up there with the best film cameras.
Its popularity makes it all the more surprising as now it is not the easiest camera to find secondhand in perfect condition, with good quality models commanding more money. Its incredible looks and famed image quality have also made it very much a collector's camera which has driven the price up significantly.
Canon made several Canonet cameras, the 'III' designates this as the third generation, and also the final generation of the Canonet. The 'G' stands for "Grade Up" which referred to the quality improvement over the previous generation of Canonets. Finally, the 'QL' designates Canon's Quick Load system, which was their clever way of ensuring the film loaded quickly and securely, without having to poke it between spokes or other untrustworthy methods.
Canonet's were before this, pretty hefty, but Canon managed to shrink the size of the G-III down to a much more pocketable stature, as well as improving the lens to not only be the fastest ever on a Canonet camera, but also huge improvements in lens quality.
Canonet G-III QL17 Specifications
Type: 35mm Lens-Shutter rangefinder camera with shutter speed-priority EE
Image size: 24 x 36 mm
Lens: 40mm f/1.7 (6 elements in 4 groups)
Shutter : 1/4 sec. to 1/500 sec., X-sync. Built-in self-timer. Hot shoe and German socket.
Viewfinder: Coincidence rangefinder integrated with reversed Galilean viewfinder. Automatic parallax correction with projected frames and marked finder. 0.6x magnification. On the right within the image area are the aperture scale, meter needle, overexposure and underexposure warnings.
Film speed range: ISO 25 – 800.
Power source: One 1.3V H-D mercury cell. Battery check provided with a lamp.
Frame counter: Counts up. Resets automatically when camera back is opened.
Film rewind: Camera-top crank
Dimensions & weight: 120 x 75 x 60 mm, 620 g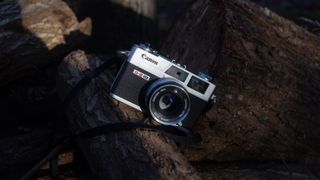 Canonet G-III QL17 Features
The Canonet G-III offers total manual control, with the shutter speed and aperture able to be controlled with rings on the lens. The camera can also operate in shutter speed priority mode, using the light meter, the camera can automate the aperture based on the manually selected shutter speed and available light.
Focus is controlled by a lever on the lens, this moves up and down by about 45 degrees. Focusing is achieved in the viewfinder by lining up the true image with a parallax image. In the viewfinder, there is also a needle indicator for the aperture value (only if using auto aperture), which will also display if your image may be under or over-exposed.
This camera's lens is its most discussed feature, with many comparisons to its rival Leica cameras that cost several times the G-III's price. At 40mm this lens is perfect for so many types of photography from street photography, to travel, and environmental portraits. The f/1.7 aperture allows greater subject isolation and bokeh and can stop all the way up to f/16 (or f/28 with flash). The shutter speed of the lens ranges from bulb to 1/500, which is not particularly fast by modern standards.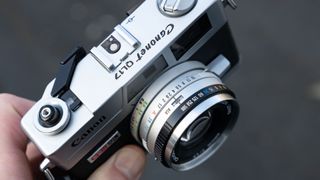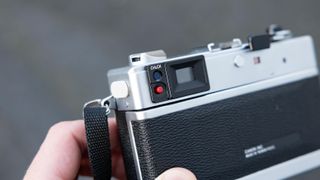 Canonet G-III QL17 Build & Handling
This camera is simply stunning to behold. If you appreciate cameras for their looks then this is a camera you will want to add to your collection. It is a combination of metal and imitation leather and feels fantastic to hold. It is surprisingly weighty for its compact size, but it also feels like it could take a significant beating and come out the other side, although you won't want to scratch its pretty face.
Unfortunately, the batteries that power the light meter are mercury batteries, which are no longer allowed to be manufactured or sold. This leaves users with a not-quite-perfect hack job of using hearing-aid cell batteries, along with an adapter to make them the correct size for the battery compartment. Does this work, in short, yes, but unreliably. The hearing aid batteries are very short-lived and produce inconsistent results based on how much power the cell contains at the time. It is more sensible to use a separate light meter for guaranteed results.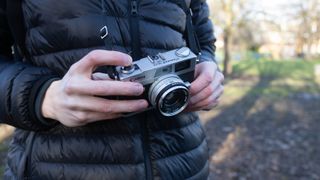 Canonet G-III QL17 Performance
Simply put, the images this lens produce are beautiful. This is some of the best 35mm image quality available, it produces sharp and bright photos, and when the aperture is opened up you get some beautiful fall-off. Like most lenses stopping it down to around f/4 will give you the sharpest images, but even at f/1.7, the images have a nice ethereal quality you want from film photography. While its 1/500 shutter is limiting on a bright day, using a neutral density filter will allow you to utilize that wide aperture even in brighter light.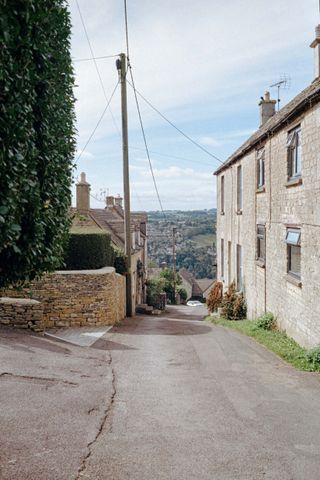 The viewfinder is still very accurate, even after all these years, however, it is sometimes a little tricky to nail the focus, as in bright light it is easy to lose the parallax image. The focus lever also takes a lot of getting used to for anyone who is used to using a lens-based focus ring.
Due to the battery issues mentioned above, I am never fully confident that I can use the shutter priority mode, so this camera is a fully manual camera for me. This is often frustrating when I want to just take a quick image, and I have the extra steps of taking a light meter reading. This might be an issue for anyone who is looking for more of a semi-automatic experience.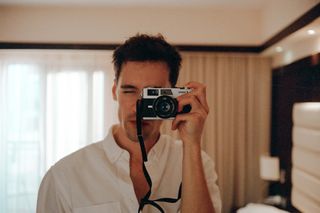 Canonet G-III QL17 Sample images
Below are sample images shot using the Canonet G-III QL17 and a mix of 35mm film types including Kodak Portra 400 and Kodak Gold 200.
Canonet G-III QL17 Verdict
The Canonet G-III QL17 is a camera to be seen taking photos with, the camera build is exquisite, with looks that will make you just want to keep picking it up. But it is also a camera that will produce incredible images. The lens is overhyped sure, but the hype is not misplaced. The images are of stunning quality and wide open and are simply beautiful.
The camera is not for the uncommitted photographer, this is not a run-and-gun camera, and may be too fiddly for many beginner photographers. The camera does require a lot of metering and work to get the perfect photo, but if you love photography, then that work is more than worth the additional effort.
Where to buy the Canonet G-III QL17
There are a few things to be wary of when buying an old camera, check that mechanically it is in working condition – the wind lever turns smoothly, the aperture rings are not stuck and the light meter is functioning. Ask to see images of the lens and eyepiece to check for fungus damage, as this is very hard to repair.
You may always need to do minor repairs on any old camera no matter the condition unless it has been serviced or refurbished before the sale. Common jobs include replacing crumbling light seals or lubing internal mechanisms that have dried out.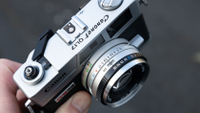 Find the Canonet G-III QL17 on eBay US
Canonet cameras are not that hard to find on eBay, and you should be able to pick up one for around $200, although this varies very significantly depending on the condition. Common issues include the battery check light not functioning or the aperture blades being stuck.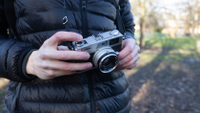 Find the Canonet G-III QL17 on eBay UK
Canonet cameras are not that hard to find on eBay, and you should be able to pick up one for around £150, although this varies very significantly depending on the condition. Common issues include the battery check light not functioning or the aperture blades being stuck.
---
Love shooting film? You might also like the best darkroom equipment, the best film scanners and the best Lomography cameras.