With USB-C, you can power more and more devices from a single connection. But what if you have too many devices and not enough sockets in your home? You need a solution that can handle multiple devices at once, without compromising on power.
Belkin BoostCharge Pro 140W: Specifications
Total power: 140W
Single port: 140W, 65W, 65W, 12W
All ports: 65W, 45W, 20W, 12W
Size: 9.6 x 7.59 x 2.54 cm (3.78 x 2.99 x 1 in)
Weight: 360g (12.7oz)
That's where the Belkin BoostCharge Pro 140W comes in. This wall charger makes a play as one of the best laptop chargers available, supporting the latest PD 3.1 standards. It can deliver 140W of power through its four ports, or use one USB-C port to charge even the most demanding laptops, or spread the load out across the ports to keep up to four lower-powered devices going including multiple less-intentive laptops, phones, or cameras charged up.
The charger has an additional trick up its sleeve, with a series of international adapters, which can click in and out of the main plug body offering a way to power your devices wherever you go in the world. Included is a Type-A plug that is shared by the USA, Canada, Mexico, and Japan; the Type-G plug used in the UK, Ireland, the Middle East, and parts of Asia, and the Type-C plug used across the majority of Europe.
All this power and international convenience comes at a price premium though, with the Belkin BoostCharge Pro 140W sitting at the top end of what you might pay for a charger. However, with the versatility on offer and its power capabilities, this might be the only charger you are going to need for the foreseeable future.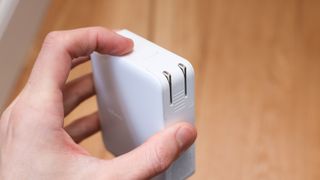 Belkin BoostCharge Pro 140W: Design & Handling
There is no avoiding that this charger is big. The Belkin 140W is just about bordering on the largest size I would consider acceptable for a charger that I'm going to travel with. Although it should be noted that compared to the Apple MacBook chargers, this is a similar size with far more ports, however, there are other 140W chargers on the market, many of which are smaller, but offer a similar multiple port setup.
Belkin has gone for power and versatility with a total of three USB-C ports and one USB-A port, so for charging multiple devices simultaneously this is immediately one of the best options available. For me personally though, this is one port too many if it would have made for a smaller design. One thing of note to US readers is the prongs on the US plug fold-in to be flush with the body, which over here in the UK, I am very jealous of.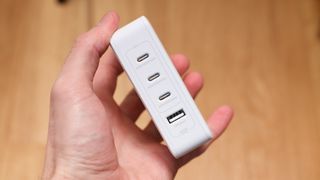 An added bonus that I love, as someone who travels frequently, is the charger comes with interchangeable plugs so it can be used natively without an additional adapter in any countries that use the US (type A), UK (Type G), or EU (type C) mains plugs. I found the plugs are very easy to switch in and out, with a small button on top to release the plug, although unfortunately there isn't any sort of bag or case included to keep all the plugs together.
It also would have been nice to have a cable included with the charger so I could take advantage of its speeds right away. I have lots of cables, but with USB cables rarely marking how fast they are, it would have been great to just know I had a fast enough one in the box.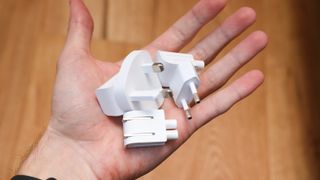 Belkin BoostCharge Pro 140W: Performance
The power of this charger is amazing if you need it. When I tested it with a single port, the 140W was enough to keep the 16-inch MacBook Pro running, even with heavy tasks like video and photo editing or gaming. When I used multiple ports, I could power two MacBooks (my 16-inch i7 Pro work laptop and 13-inch M2 Air personal laptop) and my Pixel Pro 8, all at the same time and all in active use. The charger also stayed cool, even after hours of use, it was only warm to the touch even when pushed.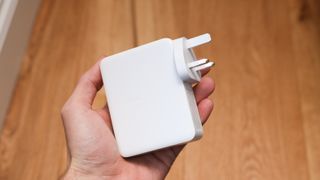 You might wonder if you really need such a powerful charger. This charger is only worth it if you use a powerful laptop frequently, otherwise, it might be too much for your lesser-powered devices. If you have something like a MacBook Air then this only needs around a maximum of 65W. Most phones, like the iPhone and Pixel families, can charge at their maximum speed with less than 30W chargers, which are smaller and cheaper. However, if you do intend to charge four of these power-hogging devices at once, then this can add up to a maximum of 140W, but it depends on how frequently you need this.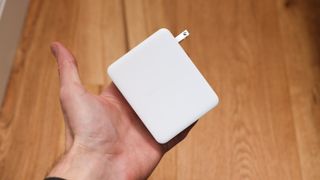 Belkin BoostCharge Pro 140W: Final Verdict
I have been using the Belkin BoostCharge Pro as my main wall charger for the last week, and I am impressed by its performance. It has four ports that can deliver up to 140W of power, which is enough to charge even my most demanding laptops at full speed. I can also use it to charge multiple devices at the same time, without compromising on the charging efficiency.
One of the features that I really appreciate is the inclusion of adapters for different countries, which makes this charger very convenient for traveling, and means I don't need to rely on separate adapters which are another expense and thing to remember to pack!
The only drawback that I can think of is that this charger is quite bulky, and it takes up a lot of space in my bag and around the socket making it harder to use in tight spots, and this is probably verging on the largest charger that I would consider carrying around with me.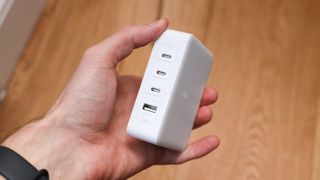 Should you buy the Belkin BoostCharge Pro 140W?
✅ Buy this if...
You want a fast charger capable of powering top-spec laptops
You want to charge a lot of devices at the same time
You travel internationally often with your laptop and other devices
🚫 Don't buy this if...
You want a compact charger for a single device
You don't travel often
You don't have enough devices to make use of all the ports
You might also like...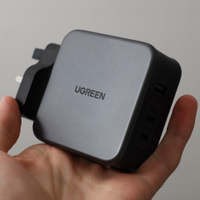 If you want a design that is a bit smaller then the Ugreen Nexode 140W charger is one to look at. The trade-offs though are it has one fewer USB ports and doesn't have international adapters.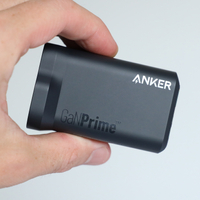 Not quite able to meet the headline power of the Belkin, but the Anker Prime 100W charger is a very compact option that also manages to provide some serious power that is more than enough for most laptops.