Is a GoPro too rich for you? In the months following the launch of a new GoPro there is always a slew of copy-cat products, but this year the bar has been raised. Featuring 4K at 60 frames per second (fps) and voice control, the Akaso V50 Elite is an attempt to match its big-name rival on core specs. However, with that achieved it piles on the extras in an attempt to woo you to invest in its all-in-one accessory assault.
The best GoPro cameras cost plenty, and there's a lot of competition from cheaper brands like Akaso. The question is whether it's good enough to make it into our list of the best action cams you can get right now.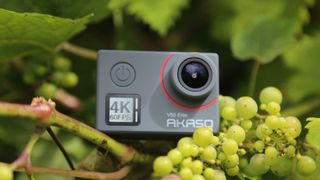 Build and handling
Weighing a 76g when naked (that's 16g lighter than a GoPro Hero7), the 60 x 32 x 41mm Akaso V50 Elite has something we always love to see on any photographic product; a 1/4-inch tripod thread. That means the Akaso V50 Elite can be considered just as much as an occasional camera just as much as an action camera.
Its chassis is soft-touch, but it's interrupted by rather too many ins and outs. There an on-off switch on the front ranged just above a pointlessly huge panel that reads "4K 60fps" next to a large brand name and product code. It's unacceptably huge and ugly and instantly cheapens the look.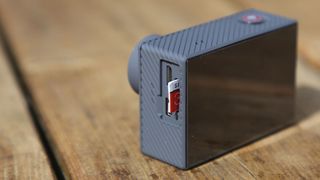 On one side is a microSD card slot alongside a micro USB slot for recharging and a micro HDMI port for outputting footage directly to a TV. The latter is overkill, and the lack of a cover is a worry. The other side contains up and down buttons for controlling an interesting 8x zoom digital function.
The two-inch LCD screen is an unusual 4:3 shape and rather small. It's not nearly responsive enough for our liking; menus take a bit of stabbing at to get going. Overall, it's not a particularly pleasant product to use.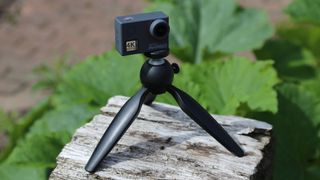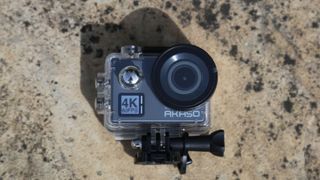 Ease of use is boosted somewhat by the provision of mount after mount for bicycles, helmets, you name it. Seriously, there cannot be many places an Akaso V50 Elite can't be mounted. There's also a bulky plastic case that has to be strapped to the Akaso V50 Elite to take it 131 ft/40m underwater (something the GoPro can do without a case). We guess this is Akaso's way of widening the appeal of the V50 Elite, but most users are going to end up throwing a lot of this junk away. Or, worse, keeping it for years for no reason. However, we cannot think of a reason to complain about the provision of two 1,050mAh batteries and a dual USB charger. That's something so few action camera-makers think of, and most users need.
Performance
So far we've been a little negative about the Akaso V50 Elite, but at its core, this action camera captures good 4K video. It deals in a number of resolutions; 4K/60fps, 4K/30fps, 2.7K/60fps, 2.7K/30fps, 1080p/120fps and 720p/240fps video. It captures 20MP still images, both in JPEG and RAW, and the results are excellent in good light with bags of detail, colour, and contrast. The distortion-free option is nice to remove the around the 170-degree wide-angle lens look, though for both photos and videos using the digital zoom removes a lot of detail. It's best avoided.
Despite it not having image stabilisation, the flagship 4k 60fps mode impresses. That's partly because image stabilisation, which is not possible when filming in 4K 60fps or 1080p/120fps modes, isn't hugely impressive lower down the food chain. We found that a shaky hand didn't necessarily mean an unwatchable video in any resolution. Slo-mo as an idea doesn't work on a wide-angle camera like this since you likely have to zoom-in on the subject, which is thus rendered very low resolution.
This is a sample clip shot with the Akaso V50 Elite at 4K 60fps handheld.
And this is 4K at 30fps with stabilization.
This is a sample 1080 time lapse movie captured with the Akaso V50 Elite.
The Akaso V50 Elite has an app for iOS and for Android, which allows a real-time live view via WiFi, and competently transfers files from the camera to phone, though editing options are few. We found the app to be prone to stalling. It's not a huge issue, but almost everything we did brought-up a message reading 'loading settings' for about a second. We also had a few failures when trying to connect a smartphone to the camera via WiFi to use the app, which can be used to remotely control the Akaso V50 Elite. However, in the box is also a small remote control that can be attached to a wrist. It's a nice idea.
There is, of course, something risky about aping the features of a rival product, and that's replicating a meaningless feature. Sure, some will find voice control useful. Shouting the rather long-winded "Action Start Video" and "Action Photo" is OK if you're on your own and distracted by handlebars or a ski jump, but most of us are not going to talk to our action camera.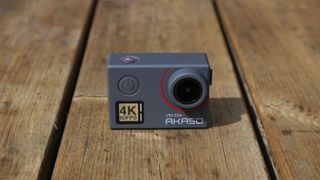 Verdict
A decent budget attempt at besting GoPro, the Akaso V50 Elite lacks wow factor; it's got some great core features but lacks a little when it comes to design and usability.
Read more:
• These are the best action cams you can get right now
• Looking for a GoPro? These are the best GoPro cameras
• These are the 25 best GoPro accessories