Jeremy Walker's debut book 'Landscape' showcases the work produced during his long-term project to photograph ruined historic buildings around the UK.
The book features 109 images, with commentary and contextual information about each capture.
Self-published so that Jeremy could retain full creative control of the book, 'Landscape' is a limited-edition printing, and is available to order via his website.
We sat down with Jeremy to find out more about the project and its scope, the inside story on how it came together, and what it takes to be a professional landscape photographer at the top of their game.
Was Landscape something you had wanted to do for a long time? And how long was it in preparation?
I have always wanted to do a coffee table-style book, mostly for my own sense of worth and satisfaction; but it has always been a case of getting the right publisher interested, or getting the finances together to enable me to go and photograph it, and to see the project through.
I had been shooting my own theme of ruins in a landscape setting for many years, with the idea of turning it into a book.
It just took so much longer than I ever imagined it would to finally get every facet of what was a huge undertaking to come together.
Shooting the images was the time-consuming element: nearly all the images were shot specifically for the book, not taken from my stock files.
The financial implications also took their toll: sometimes the weather and conditions would be perfect for a certain location, but I would have to be elsewhere shooting commissioned work. Bills need to be paid.
How do you motivate yourself when you feel like things aren't going to plan?
Hanging around and waiting for the right conditions is part of the job. It's certainly not always fun – a two-hour walk in painful hailstorms followed by sheltering behind a wall, waiting for the right light in the bitter cold, is not for everyone.
Being a bit of a solitary creature helps and, I have to admit, being a bit bloody-minded at times. These were not, on the whole, the sort of locations where you could have someone along for the ride who may then feel the cold, need the washroom and so on: you had to concentrate on the job at hand.
In many respects, I am lucky; I have no family to get back to, so I can spend time on location without worrying about other people. If I feel I need more time, I just add a few days to a trip.
A determination to get the best shot you possibly can is what drives me; if I have to return to the same location day after day, even though I may have an OK shot, then that is what I will do.
To shoot an image that is 'acceptable' then move on is not what this project was about; the conditions and mood had to be right for each location, and there is only one way to achieve that – perseverance.
Why did you choose to self-publish the book?
I have to admit to being a bit of a control freak, and so the main advantage of self-publishing is having complete control over the whole project – everything from which images to include to the design, layout and paper thickness.
From the start my view was if this is the only book I ever do, I want it to be mine. Working through a publisher would have meant a broader marketplace for the book, but there would have been cost-cutting considerations.
I would advise anyone thinking of self-publishing a photography project to have faith in their own project and produce the book they want.
I would, however, get professionals to do what they are good at – a graphic designer who understands book layout and a printer who has produced books before.
You might not make enough money to retire on, but the time and effort in doing your own book are worthwhile.
Save £10 when you buy 'Landscape' by Jeremy Walker
'Landscape' by Jeremy Walker is available from Jeremy's website for £45/$63 plus shipping. For overseas shipping rates, please see the website.
To save £10/$12 on your purchase of 'Landscape' with our exclusive discount, go to www.bit.ly/dcjwoffer
This is an edited version of our interview with Jeremy Walker. To read the interview in full, see the Spring 2021 issue of Digital Camera World magazine – on sale now.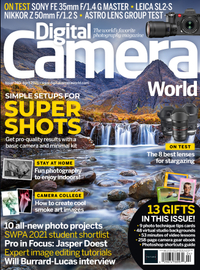 Digital Camera World is the world's favorite photography magazine. Every issue is packed with the latest news, reviews, tutorials, expert buying advice, tips and inspiring images. Plus, every issue comes with a selection of bonus gifts of interest to photographers of all abilities.
Read more
The best cameras for landscape photography
16 essential tips for great landscape photography
Go behind the scenes on a landscapes shoot with Jeremy Walker