Nikon is withdrawing from the rifle scope business, according to a number of reports from retailers and vendors involved in the American firearms trade.
While the manufacturer will continue to produce other sport optics such as binoculars, rangefinders and spotting scopes, production of Nikon's line of rifle scopes will be (or has been) discontinued – meaning that once current stocks are gone, they will not be replenished.
That's according to reports that have, apparently, been confirmed by Nikon's advertising agency in the United States.
The news first came courtesy of a story on Nikon Rumors. "This rumor is coming from vendors: Nikon is supposedly slashing production of some of their sport optics product lines. Apparently they're being told that all scopes and red dots are discontinued."
This was seemingly corroborated by gun website The Truth About Guns. "One of our intrepid readers who's in the retail end of the gun business told us of notification he received from one of his distributors. They were letting him know that Nikon will be exiting the rifle scope business and that once current inventory is gone, it's gone."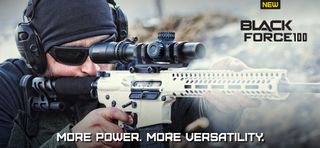 The site reached out to Nikon for confirmation on the rumor, which it received – along with an explanation for the decision. "TTAG spoke to Nikon's advertising agency who confirmed the news. We're told that this is a business decision Nikon has made based on their position in the highly competitive optics market."
As with other manufacturers of high performance camera lenses, Nikon's aptitude for producing premium optics means that its expertise has traditionally expanded beyond photography and into other industries – particularly during World War II, where it became involved in manufacturing everything from bomb sights to periscopes for the Japanese military.
These additional applications for lens technologies form a significant ancillary (or, in the case of Olympus and the medical industry, even primary) revenue streams for those in the optics business.
With pundits proclaiming that "Nikon is dying" given the company's latest strained financial results, it's may be surprising that it is withdrawing from a presumably profitable venture… However, Nikon's involvement in the riflescope market has been a bone of contention amongst many wildlife photographers.
What do you think about this move – is it a good decision by Nikon? Should it keep its business diverse? Will you miss its range of rifle scopes? Have your say over on the DCW Forums.
Read more:
The best Black Friday camera deals in 2019: the best buys we have seen so far
Nikon Black Friday and Cyber Monday deals in 2019
The 10 best spotting scopes in 2019: spotting scopes for birds, planes and stars