Panasonic has been leading the development of a next-generation organic CMOS image sensor. The new generation of non-back-illuminated sensors is expected to be a huge breakthrough once it becomes commercially available - which according to Panasonic could be much sooner than its competitors.
This new sensor is said to have a drastically improved low-light performance in comparison with the widely-used Sony CMOS sensor developed back in 2009. This is thanks to features such as a wide dynamic range with high sensitivity for textures.
• These are the best Panasonic cameras
Panasonic has been exhibiting prototypes of organic CMOS sensors at photographic events since as early as 2016, particularly in 8K cameras, and according to a recent press interview - the company is on track to bring this game-changing new sensor to the wider market relatively soon.
But what exactly is an organic CMOS sensor? Firstly, CMOS as an acronym stands for Complementary Metal Oxide Semiconductor, and its purpose as a sensor is to convert light into electrical signals, at least that's how Canon explains it.
But there are different types of CMOS sensors too, and one frequently used is known as a Backside Illuminated sensor (BSI) which arranges components a little differently to enable more light sensitivity by moving circuitry to the back side. There's also a different format known as Stacked CMOS sensors, which use back-illuminated pixels stacked on top of a logic chip to improve dynamic range.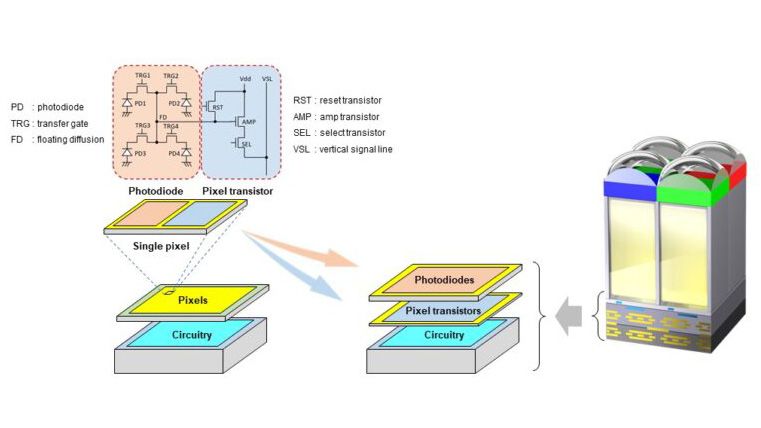 In an interview with the Japanese online news outlet, MONOist, two men in charge of this new organic sensor development over at Panasonic HD explain the inner mechanics behind this new "organic" CMOS sensor and the roadmap to its practical application. The interview has been translated from Japanese so any discrepancies should be taken with a pinch of salt.
The structure of the organic CMOS sensor from Panasonic involves photoelectric conversion performed by a photodiode, which would situate in a back-illuminated CMOS image sensor, actually carried out by an organic thin film 'with a higher light absorption coefficient' as the article states.
• See more: Camera sensor sizes are stupid
The traditional thickness of a conventional photodiode is supposedly around 3 μm, but this new "organic" sensor would instead have a thin film with a thickness of only 0.5 μm, making it possible to separate the photoelectric conversion section and the charge storage section, and enabling it to handle near-infrared light imaging.
Confused? So are we. Basically, an organic CMOS image sensor can (according to the developers) combine functions together such as 8K level resolution, as well as a wide dynamic range and a global shutter - which general back-illuminated CMOS image sensors cannot be equipped with.
Yoshiaki Sato, Senior Researcher of the Material Application Technology Center of Panasonic's Technology Division, believes that despite the increased manufacturing process of these organic sensors, "we can expect market demand because it will lead to significant performance improvements."
Panasonic's manager in the Technology Innovation Division, Kazuko Nishimura, shared that she feels the company is close to bringing this new innovative CMOS sensor to market.
"The organic CMOS image sensor is attracting attention as a next-generation image sensor. We are proud that we are in a position that is close to commercialization. We cannot say when it will be possible because we have customers, but the development side wants to commercialize it in a few years. We are focused on our activities."
Could we see these organic new CMOS sensors before 2030? It's still pretty unclear what Panasonic means by "organic", but either way - these sensors will undoubtedly be on the market for high-end professional video equipment as the company expressed desire and previous attempts to fit them into the latest 8K cameras.
---
• You might also be interested in the best camera sensor cleaners, as well as these 10 best camera sensors on the market and our review of the Nitecore BlowerBaby 2 camera sensor cleaner.
• You can find out more about camera sensors with our guides to the best full frame cameras, the best APS-C cameras, and the best Micro Four Thirds cameras.