Amazon has a very close relationship with Blink because it owns them, which has traditionally meant some amazing deals on Prime Day and Black Friday. This year, however, they seem to be going early on their latest addition, the Blink Outdoor 4.
That's great news if you want to expand your Blink coverage, or start installing security cameras for the first time. The generations have steadily refined the Blink cameras, but the core concept has remained the same – to use lithium batteries which are replaceable to offer two years, rather than rechargeable ones which need attention every few months. This makes installation and maintenance easier, as we've discussed in our review of the earlier Blink Outdoor.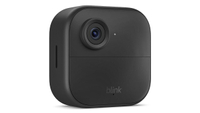 Blink Outdoor 4 (4th Gen)|was $119.99| $71.99
Save $48 at Amazon The Blink Outdoor 4 is the fourth generation of a popular weather-resistant security camera which has extra-long battery life – up to two years. It has 1080P video, two-way talk, person detection, the option of free home storage and (of course) works with Alexa. There are additional discounts if you buy two or more of these at the same time.
The new refinements this time include a wider field of view than previous generations, at 143-degrees, which means you can see more of your yard or garden from a single installation.
There is also improved low-light capability, which is a boon in all security cameras, and also goes to improve the motion detection. Since security cameras only record when they detect motion or when requested (to preserve battery), this is a bigger benefit than a mere item in a list – it could represent a couple of months before you have to swap the batteries!
Blink also offers optional subscription plans with person detection, and other cameras including the Blink Mini and Blink Pan-Tilt for use indoors so you can build up a complete setup and use it entirely with one app. A massive boon, though, is that these aren't essential – the Sync Module 2 is an inexpensive option that lets you use a USB memory stick to record clips on instead of paying a subscription.
If you would prefer to check all the alternatives, we also have a guide to all the best CCTV cameras and the best floodlight cameras.