Vanguard has officially launched a quartet of new VEO 2S monopods – all of which have three feet, rather than the traditional one! Three of the monopod models are constructed of aluminum but notably, one made from carbon fiber - a first for the range.
Three of the models feature an attachment for and come included with a smartphone connector, which allows higher quality, stable images from a cameraphone. The connector can either used attached to one of the monopods or separately as a selfie stick, vlogging tool or phone support when reviewing images, for added versatility. It accepts phone models up to 8.6cm in width.
Read more: Zoo photography tips: how to get great pictures of animals
One of the units features a VEO PH-13 2-way Video Head, which opens up extra possibilities for capturing smooth video clips. The stronger attachment allows the user to fit a DSLR camera or mirrorless Compact System model, providing access to a pro-grade setup for shooting moving images.
All four of the new monopods include the Vanguard Tri-foot attachment, which distributes weight more evenly than other monopod models, offering added stability, but without the weight and size of a tripod. This is especially useful in low-light shooting environments such as concerts or sports stadiums, where support is essential, but tripods often not permitted.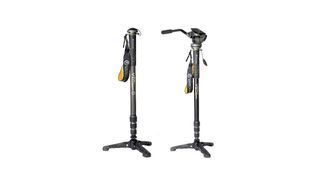 The new Vanguard VEO 2S monopods range in price from £79.99 for the AM-234TR, which holds loads up to 5kg, to £119.99 for the AM-264TV, which handles 4kg loads, but comes with the VEO PH-13 2-way Video Head.
The AM-264TR (£89.99), CM-264TR (£109.99) and AM-234TR are bundled with the Vesta SPC Smart Phone Adapter which is available for £19.99 as a separate item. The AM-264TR and CM-264TR support max loads of 6kg each.
Read more:
The best monopods in 2019: how do they work, and which should you choose?
The best tripod in 2019: need sharper shots? Get some support!
50 best camera accessories, gadgets and gifts for photographers in 2019