3 Legged Thing has released three new monopods, designed to expand its range for videographers, wildlife, and sports photographers.
3 Legged Thing is an award-winning British manufacturer of tripods and monopods, often leading or ranking very highly in our best tripod and best monopod guides. Three new monopods have been released from 3 Legged Thing, set to pique the interest of both photographers and videographers. Commenting on the release, Stuart Boston, Chief Operating Officer for 3 Legged Thing said:
"We're delighted to expand our range of monopods to offer our customers even more choice. These three new models take inspiration from our current best-sellers and add refined features, and handy wrist straps for additional security. We look forward to seeing them in use at sports venues and wildlife locations worldwide!"
The new monopods are named Taylor 2.0, Alana, and Lance, and they each have something a little different to offer.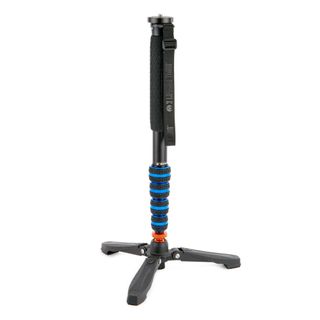 3 Legged Thing Taylor 2.0
Named after the late Foo Fighters drummer Taylor Hawkins, this monopod is a magnesium alloy travel-friendly monopod in 3LT's Punks range. The Taylor 2.0 is designed for compact transportation with a folded length of just 44 cm / 17.32". The monopod reaches a substantial 1.58 m / 62.2" fully extended, and can support loads of up to 30kg / 66 lb, despite only weighing 677 g / 1.49 lb.
See our 3 Legged Thing Taylor review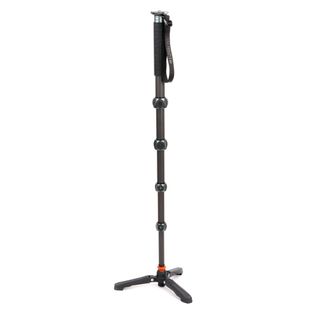 3 Legged Thing Alana
This monopod is a part of the Legends range and is named after Alana Smith, the youngest skateboarder to win a medal at the X Games. The new Legend monopods have been created in conjunction with customer feedback and all feature a smooth bowl-shaped top section that alongside the large rubber grip makes Alana comfortable to use for long periods. The folded length is a compact 44.8 cm / 17.6", yet reaches 1.58 m fully extended offering users a highly portable and lightweight monopod that can support up to 60 kg / 132 lb of camera gear.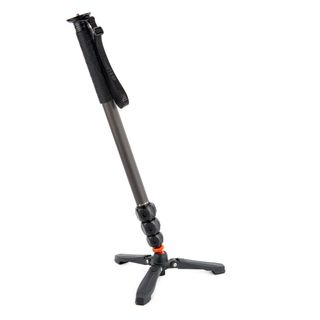 3 Legged Thing Lance
Like Alana the Lance monopod is part of the new Legends range, so also benefits from the updated smooth bowl-shaped top section alongside the large rubber grip, adding to its comfort. Keeping on theme Lance is named after former skateboarder Lance Mountain, but this time is designed for photographers and filmmakers that need greater extension. With a fully extended height of 2.02 m / 79.5", Lance can also support up to 60 kg / 132 lb of camera gear. It folds to just over 61 cm / 24" for transportation.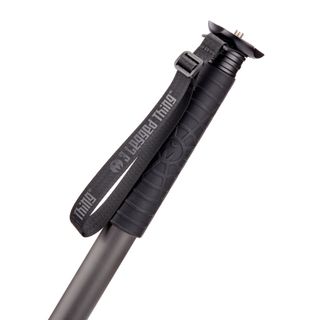 All three monopods feature a convenient spring-loaded dual thread at the top – 3/8"-16 for mounting a tripod or monopod head, and ¼"-20 for mounting a camera or lens directly to the top. They each include a non-removable rotating wrist strap at the top for additional security and a comfortable textured, rubber grip which is contoured with channels to aid water dispersal. Each of the monopods is also compatible with 3 Legged Thing's Docz foot stabilizer, which also doubles as a mini tripod. Docz has legs that can be folded upward making it extra-compact for transportation. Another useful feature of note, that I personally was unaware of, is that these monopods have the strength to double as boom arms for audio equipment and lighting!
Monopods are a fantastic way of enabling camera stabilization, especially when using a long lens, and when working in confined spaces where a tripod isn't a viable option. The monopods are out now at the following prices:
Taylor 2.0 $89.99 / £79.99 / AU $153.00 ( for the monopod only), or $139.99 / £119.99 / (approx AU$230.00) (as monopod kit with Docz foot)
Alana $149.99 / £129.99 (around AU$250.00) (monopod only), $199.99 / £169.99 / approx AU$326.00 (as monopod kit with Docz foot)
Lance $149.99 / £129.99 / around AU$250.00 (monopod only), $199.99 / £169.99 / approx AU$326.00 (as monopod kit with Docz)
See the articles listed below for more information on monopods: