Not everyone needs a monopod, but it's surprising how useful they are. In sports and wildlife photography they take the weight of a heavy lens, reduce wobble with long-range shots and make it easier to carry out level panning movements. They can help reduce camera shake in low light and smooth out micro-jitters when filming. If you're into landscapes, they can even serve as an ad hoc walking pole on uneven terrain.
Choosing the best monopod sounds like it ought to be simple but, as with tripods, monopods come in different heights, with different leg sections and with either aluminium (or magnesium) construction for affordability or carbon fiber for lightness.
The 3 Legged Thing is at the top end of the scale. It uses lightweight but rigid carbon fiber tubing and extends to a maximum height over just over 2m, which is well above eye level for everyone who isn't a basketball player.
You don't have to be 7ft tall to need a monopod that can go this high. The extra height is ideal for filming over the heads of crowds, as 3 Legged Thing points out, and it's also great if you are shooting or filming on a downward slope or on the bank of a river. Your monopod can stand in the water while you keep your feet dry on the bank!
3 Legged Thing Lance: Specifications
Max height: 202cm / 79.5in
Length folded: 61.4cm / 24.2in
Leg sections: 4
Weight: 677g / 1.49lb
Max tube diameter: 32mm / 1.26in
Max payload: 60kg / 132 lb
Material: Carbon fiber, magnesium alloy
Colors: Darkness
3 Legged Thing Lance: Key features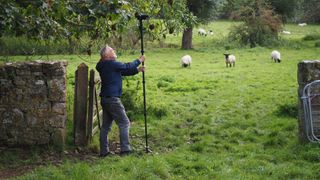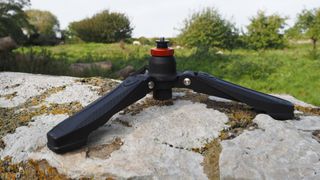 The 3 Legged Thing Lance is a monopod stripped back to the basics. It doesn't even have a tilting or swivelling head, a feature you can often find on rivals. Monopod purists may argue that a head adds unnecessary weight and complication that detracts from a monopod's basic simplicity, but a tilt head is definitely useful when aiming the camera towards the ground or upwards at tall buildings or interiors. A swivel action can also smooth out panning movements.
However, the Lance can be bought with an additional Docz2 foot attachment. This does turn it into a free-standing camera support, though it's far less stable than a regular tripod and perhaps best used indoors where there are nice flat surfaces and no strong winds. The Docz2 feet do give it a much smaller footprint than a regular tripod, though, which is really useful when shooting or filming in confined spaces or when you need to change position quickly.
3 Legged Thing Lance: Build and handling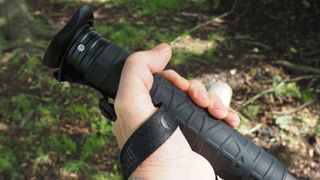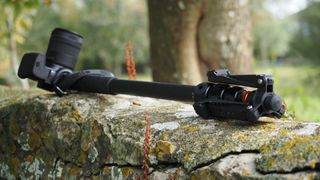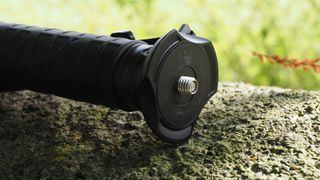 The Lance is really simple to use, mainly because it doesn't do all that much – which isn't necessarily a bad thing in a monopod. The four-section leg is quicker to set up than a regular 5-section monopod (of course), but this does mean it's still pretty long when folded. It's going to have to go on the outside of your backpack not the inside, and it will need to be strapped down securely.
The thick rubber grip on the top section provides a comfortable, secure hold, and the 'O-Pad' twist lock leg section grips give you good purchase for tightening and loosening. You won't necessarily need to slacken them all off, either. If you're a bit of a shortie (like me) you'll probably need only three sections extended out of four for most shooting scenarios.
The dual-thread mounting screw on the top works really well. The wider 3/8" outer sleeve screws straight into a tripod head, while if you push it into the base of a camera, this moves back and the inner 1/4" screw engages with the camera. It's that simple.
3 Legged Thing Lance: Performance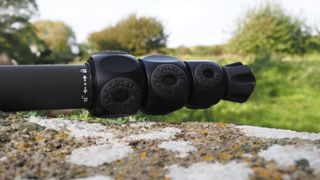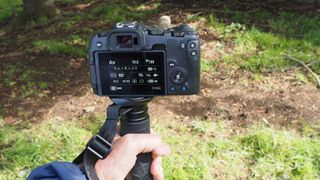 It is possible to provoke some flex in the leg, but only if you shove it around in a totally unrealistic manner. The leg locks only require a short twist to go from loose to fully tightened, and the Lance easily handled the weight of our heaviest gear – the maximum payload is 60kg, and who even has 60kg of kit? – and if you are going to use it at its full 2.02m height, its stability is going to be limited only by the strength of your biceps.
The optional Docz2 feet do, however, seem a bit of a weak point. They have a ball-type pivot for panning and camera movement – really useful – which you can tighten up with a locking nut, but even so it's difficult to tighten the Docz2 on to the bottom leg section fully, and even when it's locked down as tight as it will go, there's still a bit of flex and wobble in the setup. It is designed to articulate when slackened off, and that is certainly useful for camera movements.
3 Legged Thing Lance: Verdict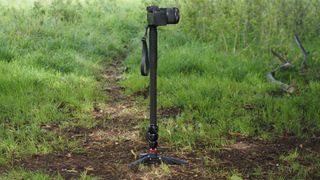 If you need an extra-height monopod with a faster 4-section design and the lightness and rigidity of carbon fiber, then the 3 Legged Thing Lance definitely delivers. It is more expensive than 3 Legged Thing's magnesium alloy monopods, though, so height and weight need to be your priorities for it to make sense – otherwise, you might just as well get the cheaper Trent 2.0.
But should you get it with the Docz2 feet? This adds considerably to the price and, while it might be useful indoors, it doesn't have the stability or the adaptability of a tripod outdoors. It would be better, perhaps, if 3 Legged Thing offered a basic pan/tilt head instead (or as well).
Check out the best tripod ball heads, and the best pan-tilt heads