The Leica Q series has won a legion of fans since its launch in 2015, with its sophisticated design, user-friendly operation, and superior craftsmanship. The fixed focal length full-frame compact camera has become a favorite of street, travel, and everyday photographers around the world. The Leica Q3 builds upon the success of its predecessors, promising exceptional photo and video, along with an array of new features.
The Leica Q3 becomes the latest camera to feature Leica's latest new BSI-CMOS sensor, incorporating Triple-Resolution-Technology, allowing users to choose between three resolutions – 60, 36, or 18 megapixels, all using the full width of the sensor. The 60-megapixel resolution offers the finest details for large prints and displays while opting for 36 or 18 megapixels enables faster operation, longer continuous shooting, smaller file sizes, as well as a small boost in dynamic range. The Leica Q3 has an ISO sensitivity range of ISO 50 to 100,000 and the latest Maestro Series processor with L2 Technology powers the camera.
And it's not just photographers getting an upgrade, for content creators, the Leica Q3 can record videos in 8K resolution and supports codecs including H.265 and Apple's ProRes internally. It is possible to connect the Q3 to external devices such as gimbals, power banks, and display recorders via USB-C and HDMI ports, as well as tethered shooting is also supported through the USB-C cable connection.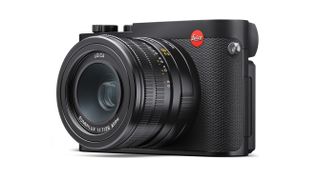 The Leica Summilux 28mm f/1.7 ASPH. lens is fixed, but at 28mm, it offers a naturally wide and versatile perspective, suitable for a lot of different subjects, as well as a wide f/1.7 aperture for low light ability and beautiful background blur. The lens also includes an integrated macro mode for close-up shots from a minimum focusing distance of 17 cm.
Empowered by the new 60-megapixel sensor, the Q3 introduces an extended digital zoom, enabling users to record cropped images at focal lengths of 28mm, 35mm, 50mm, 75mm, and now 90 mm. Two additional features, Leica Perspective Control (LPC) can help straighten building and other perspective anomalies, and Leica Dynamic Range (LDR), can assist in producing high dynamic range JPEG images without the need for post-processing.
The autofocus system of the Leica Q3 has undergone significant improvements. It now incorporates a hybrid autofocus system with phase detection, ensuring precise focus and fast object tracking. The Leica Q3 now has more intelligent subject recognition, enabling the Q3 to recognize human bodies, faces, and eyes, as well as animal subject recognition and tracking.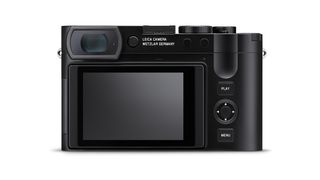 The Q3 is equipped with a new 5.76-megapixel OLED viewfinder for composition. On the rear, the Leica Q3 now features a tiltable 3-inch high-resolution touchscreen. The tilting mechanism offers unique and hard-to-reach viewing angles and expanded creative possibilities for both photos and videos. The camera maintains its durability with IP52 certification, protecting against dust and spray water.
The Q3 is easier than ever to connect to the Leica Photos app via Bluetooth, WiFi, or the dedicated certified "Made for iPhone and iPad" cable, with the transfer speed seeing a significant increase by up to ten times over the previous Q2. On the app, special Leica 'looks' can be applied directly to photos to go give photos a unique style.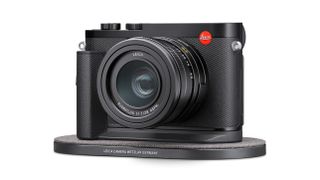 The Q3 is launching alongside a number of accessories. The new Leica Charging Pad and separate camera handgrip enable wireless charging for the Leica Q3's newly designed BC-SCL6 battery and other Qi-compatible devices. There will also be the usual collection of stylish Leica branded accessories including leather half cases, color-matching thumb rests, and soft-release buttons.
The Leica Q3 is now available globally through Leica Stores and authorized dealers, priced at $5,995 / £5,300 / AU$9,790.
Find out more with our guides to the best Leica cameras. You might also be interested in our guides for the best camera for street photography and the best travel camera.