A man was issued a fine after speeding through a village in Western Slovakia, however, the police were in for a shock when the speed camera image showed a very unsuspecting perpetrator. Instead of a photo of the 31-year-old owner driving the car, what looks to be a brown hunting dog (Hungarian Viszla) sits behind the wheel.
• Perhaps he should have looked at our guide on the best speed camera detectors.
Police could not believe their eyes when first gazing upon the image, wondering what on earth had happened. Was that a dog driving a car? According to the owner of the vehicle when questioned by the police, the dog – Havino – was not in control of the vehicle but instead had decided to jump on its owner's lap whilst driving, at the precise moment it was captured on camera.
The police found this hard to believe as there were no indications of movement captured (seemingly from the translation of the Police's Facebook post they were able to play video back from the safety camera). It seemed more than likely to them that the dog had been sitting behind the wheel for a while, so the driver was subsequently fined on the spot for violating traffic regulations. The police went on to joke that the dog's plans of a day out hunting were likely spoiled.
Find the original Facebook post here.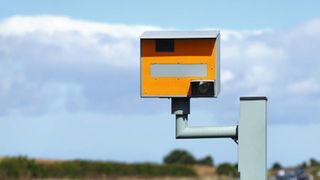 This is, however, a reminder to keep pets safely secured in the car, for both your and their safety. Please research the correct safety guidelines in your region before setting off with your pooch or animal friend. When they get the urge to zoom in the park (hence, zoomies, which a vet might call a FRAP, or Frenetic Random Activity Period) that's fine, but unrestrained in the vehicle there is a real risk!
This is also by no means the first incident involving an animal to be captured on a Gatso speed camera. Horses, seagulls, and parrots have all had their 15 minutes of fame in front of the camera. Who knows what we will see next?
If you want to capture candid animal images in a safe and controlled way, see our list of best trail cameras, you never know what you may capture, or go for one of the best pet cameras.