Back in 2008, Sony considered joining the Micro Four Thirds standard – where it would effectively have joined forces with the pioneers of mirrorless cameras, Panasonic and Olympus.
It seems hard to imagine now, but 20 years ago Sony's camera business was not doing well. Konica Minolta sold its camera division to Sony in 2006, but the new owner simply couldn't make a success of the clunky A-mount technology.
• Sony didn't join, but the best Micro Four Thirds cameras are great imaging tools
It concluded that it would have to come up with compact new technology – something that Micro Four Thirds was already developing, with the first ever mirrorless camera (the Panasonic G1) about to be released in 2008. Sony could see where the market was going.
"If Sony does an interchangeable lens system, then it's going to be the compact and lightweight route that represents our true worth," recalled Shigeki Ishizuka, Sony Group Vice Chairman, in a fascinating ongoing series with Nikkei (thanks to Digital Camera Info for the tip).
"It was around this time [November 2006, when Ishizuke rejoined the Digital Camera Business Division] that the Micro Four Thirds team asked me if I wanted to join the family.
"I thought it was a well-balanced format that could achieve a compact size while maintaining the image quality and lens bokeh that are unique to an interchangeable lens system. On the other hand, there are other options if you want to pursue image quality and performance.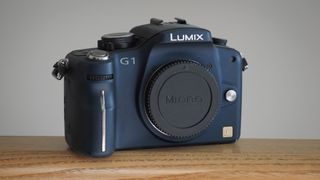 So when did the decision come to go in a different direction?
"It was the fall of 2008, and I will never forget it. We had a brainstorming session for the medium-term plan for the next three years. Of course, Sony's interchangeable-lens cameras would have to be made smaller, equal, and mirrorless.
"[We asked the question] what kind of system should be used? As one of them [options], 'Let's accept Micro Four Thirds as it is'. As a second option, 'Let's shift to mirrorless while maintaining the assets and brand of Alpha, and do a miniaturized version.' I had a few other ideas, but these two were the most realistic.
"So, at the end of 2008, it had already been decided that it would be 'a mirrorless with APS-C that is compatible with A-mount lenses.' However, while it would be nice to be able to take over the assets, there is the problem of whether or not the camera will be small, light, and attractive enough to differentiate itself from other companies.
"If you do it with Micro Four Thirds, it will definitely be smaller." But if you do that, you'll be completely on the same playing field as your competitors. And as pointed out, if you inherited the Alpha assets from Konica Minolta and switched to a different one with Micro Four Thirds, everything would be wasted. In that case, it is still better to develop in-house."
Ultimately, that is of course what Sony did. It debuted the E-mount in 2010, with the first generation of Sony NEX cameras, and that same mount continues to this day and powers the best Sony cameras in both APS-C and full frame formats. Though it's fascinating to think what may have happened, if Sony had joined the Micro Four Thirds standard instead – the entire camera industry would be radically different!
If this article was of interest, you might like to check out the best Olympus cameras (OM System) and best Panasonic cameras using the Micro Four Thirds standard.