Black is often the color of choice for a lot of photographers (myself included) as well as camera manufacturers, but maybe it's time for a change?
The only silver cameras, and lenses for that matter, that I own are older film cameras – so there's definitely nostalgia tied to the color silver.
• These are the best professional cameras – and they're mostly black
My colleagues and I seem to be in agreement that black is mostly the way to go for a camera body, and as our staff writer Hannah has previously said: cameras shouldn't be colorful!.
Although I do think that if designed correctly, a white camera could look super modern and sleek – think the Playstation 5 Camera for example, it just looks so clean. I would definitely buy a white mirrorless camera for the right price, or even a chunky DSLR provided it didn't look tacky.
However, YouTuber and professional photographer, Robin Wong, has stirred the photography opinion pot and believes that silver colored camera bodies and lenses are the way to go, as someone who shoots mostly outdoors. He gives some fair justification as to why, and states in his recent video (below) that his reasoning "is only applicable to a very specific condition", but isn't by any means a dealbreaker when choosing a camera.
Wong, a former OM System ambassador, currently uses a silver Olympus OM-D E-M5 Mark III, and one of the first reasons he chose to purchase it in this color was for a reduced chance of it overheating.
The internal electronics of your camera can heat up, especially if you're shooting high-resolution footage for an extended amount of time (as was famously the case with the Canon EOS R5), and the color of your camera or lenses will have absolutely no effect on this.
However, external conditions such as outside temperature and hot sunshine – and in Wong's instance, the tropical weather of Malaysia – can also cause your camera to overheat. The difference is, as Wong explains, that a black camera body will significantly increase the chances of overheating the internals and the camera's surface temperature, being a color that absorbs light rather than reflecting it.
The video, which at the time of writing has reached a total of 13 thousand views, isn't necessarily controversial but has definitely created a debate among photographers worldwide as to which color camera is more socially acceptable, with small silver cameras being more incognito, yet black cameras are often associated with being professional.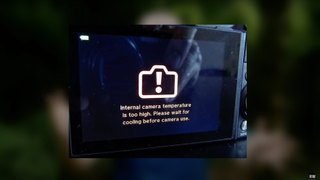 Wong uses the example of most Canon telephoto lenses being coated in white, and how this is a design choice to prevent heat expansion and manage overheating of these lenses better in warmer temperatures.
I had honestly never thought of this before and, according to Wong, the white color matters because it can cause your lenses to warp slightly and distort, resulting in poorer image quality with inaccurate focus and unwanted softness.
One commenter under the video shared, "I agree that a black camera can get really hot. I was in Arizona on a trip in May a few years ago and it was 100 degrees. My black E-M10.2 camera got so hot I had to put it into my bag and not use it for a while. However, I still buy black cameras for the reflection-problem reason Robin mentions at the beginning of the video. It obviously depends on how you use a camera, where you live, and what you like for looks."
You don't necessarily need to go racing off to buy a silver camera but, if you're planning an upgrade soon then it might be something to consider. As Wong says, "At the end of the day, it does not matter if your camera is silver or black, the difference is not that critical. There is always a workaround for any problem."
• You might also be interested in the best Olympus cameras (OM System), as well as the best reflectors for photography, and not forgetting the best light meter for photography,
• Take a look at our review of the new version of Robin's camera, the OM System OM-5, and if you hate cameras that mostly come in black and silver, maybe the best pink cameras are more your style!