Choosing the right camera bag is important – not only do you need to consider the volume, but also how well the bag can protect your gear. And this is a more important consideration when it comes to choosing a travel-friendly camera bag.
Ideally, you'd want something that's tough and comfortable to wear as well, just like the Lowepro ProTactic BP 350 AW II backpack. It scored a full five stars in our review and for good reason - and is one of the best camera backpacks around.
This backpack has a modular design, with several accessories that can be purchased separately, depending on your needs. But even without the additional pouches and bags, there's plenty of room here for a 15-inch laptop, your camera body (whether DSLR or mirrorless), a few lenses and even a drone.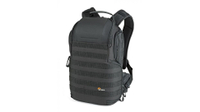 Lowepro ProTactic BP 350 AW II backpack | AU$299.95 AU$199.20 on Amazon (save AU$100.75)
While Amazon has listed the launch price of the backpack on its site, this sturdy and versatile Lowepro is now two years old and is retailing for about AU$300. So while it's not quite the whopping 55% off that Amazon claims, it's still a very respectable 33% off right now as compared to some Aussie stores. So if you're after a solid travel camera bag that's not too expensive, we can't recommend this highly enough.
It's built from heavy-duty fabric and sturdy zips, weighing in at around 2kg when empty. That might seem like a lot, but there's plenty of cushioning here and lots of pockets that can easily fit documents, memory cards and anything else you might need on your shoot. There's even space to carry a medium-sized tripod.
Adding to all that is a waterproof cover that's stashed away in a pocket on the underside of the backpack itself, so you know your gear will be safe no matter what the weather throws at you.
When it comes to accessibility, Lowepro has kept every kind of photographer in mind by offering side access on both sides of the bag as well as the usual top U-shaped zip for those who prefer rear-opening backpacks. If you think the hip belt is annoying, you can even remove it when you're not planning on hiking with your gear. In fact, the hip belt can be used separately and fits a few more bits and bobs in its two zipped pockets and loops.
In Australia, this bag retails for around the AU$300 mark, although you can find it for about AU$250 as well. Amazon, though, is taking things further and has slashed the price down to a few cents over AU$199, making it one of the best prices we've seen for this excellent Lowepro backpack.
Read more
• Choosing the best camera bag
• Best messenger/shoulder bags
• Best camera backpacks
• Best camera sling bags
• Best camera holsters/pouches
• Best camera wrist straps
• Best roller bags
• Best hard cases for camera kit