There are few things more hilarious than corporations making pop culture references that are 14 years out of date. We'll forgive this one, though, as it confirms that the Realme XT camera phone will be a 64MP quad-camera powerhouse.
"All I can say right now about this phone is quad me up when September ends," quipped Realme CEO Madhav Sheth at the company's Leap To Quad Camera event, with Green Day's 2005 anthem Wake Me Up When September Ends playing on stage.
• Read more: Best camera phones
The event was ostensibly to launch the 12MP Realme 5 and 48MP Realme 5 Pro camera phones, both of which possess quad-camera setups. However, it was also the perfect platform to tease next month's release of the Realme XT in time for the Diwali festival.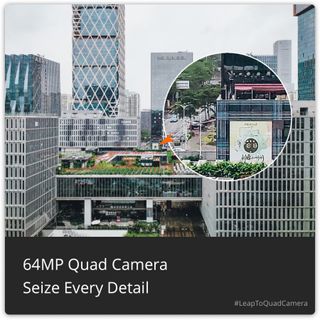 Touted as the world's first 64MP camera phone, the XT looks set to be the first one to market – unless a rival manufacturer does something suitably punk rock and releases their own before September ends.
The Realme XT makes use of the shiny new 64MP Samsung Isocell Bright GW1 sensor for its primary camera, and also incorporates an f/2.4 macro camera, an 8MP f/2.2 118° wide-angle camera, along with a telephoto affair that offers 2x zoom – but not optically.
However, GSM Arena has already been hands on with the device – and it came away with some interesting observations that don't paint an entirely optimistic picture of the new phone… or Samsung's new sensor.
"The 64MP unit has a 1/1.72" type sensor and a pixel size of 0.8μm and works similarly to its 48MP counterpart… The sensor does have a demosaic algorithm for full 64MP shots, but there's so much interpolation going on there that you get very limited extra detail, if any."
• Smartphone news, camera phone leaks and mobile rumors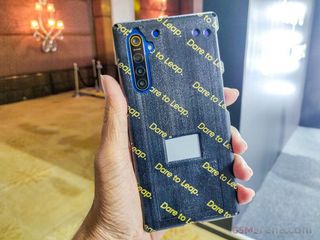 In terms of the new macro lens and telephoto camera, the reception was similarly lukewarm from the site.
"The [macro] photos looked mostly fine but we were not all that impressed with the pictures of the artificial small grass… a company executive told us that the 'telephoto lens' won't support optical zoom. It's a bit confusing the whole thing… The prototypes offered 2x and 5x zoom toggles, but with no telephoto lens this is all done digitally and as you can expect the results aren't great."
Could it be that the much ballyhooed increased resolution doesn't really hold up to closer scrutiny, or is this simply a case of the prototype tech not being reflective of the finished product?
Somebody wake us up when September ends.
Read more:
The best camera phone in 2019: ultimate smartphone cameras compared
Samsung's 64MP camera phone sensor outmuscles any Canon or Nikon camera
Samsung Galaxy S11 to feature Samsung's 108MP sensor, 6K video, 10x optical zoom