Have you got the bottle to go up against the best? This one-day wine photography event is a spin-off of the annual Pink Lady Food Photographer of the Year competition and will run via Facebook, Twitter and Instagram. Even if a wine competition fills you with terroir (it gets worse), this one is super-easy to enter.
You don't need to know your Amarone from your Zinfandel to enter as you just need a nose for great food photography. All you have to do is post your wine-related pics on one of these social media platforms using the hashtag #WinePhotographyDay within the allocated time window – specifically, between 12 noon GMT Monday 19th November 2018 and noon GMT on Wednesday 21st November 2018.
The organisers will then rack up the entries and label the winner, who can then claim a jumbo-sized 150cl magnum of Errazuriz's Don Maximiano Founder's Reserve 2010 and a premium subscription to Decanter Magazine for their display Kabinett (sorry).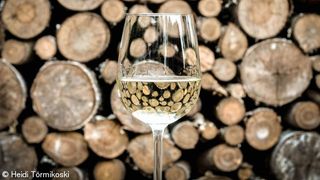 Grape expectations
Camera maker Fujifilm has joined in, promising a barrel of help and advice on the day about lighting, styling, framing and storytelling from its Ambassador, Chio Photography. Or you can pick your own lighting style – we suggest 'noir'.
The idea is to celebrate wine and everything to do with it, and full details are on the International Wine Photography Day website.
Pink Lady is actually the name of a brand of apple and sponsor of the Pink Lady Food Photographer of the Year competition. It's open to professional and non-professionals and its aim is to "celebrate the very best in food photography and film from around the world".