Polaroid has announced the Polaroid Hi•Print, "a new pocket printer for the next generation" that features wireless connectivity and employs the high resolution dye-sublimation printing process.
It's the latter point that should stand the Polaroid Hi•Print shoulder to shoulder with the best portable printers. Many pocket printers (along with many digital instant cameras) make use of Zink printing – a "zero ink" process that offers compactness and affordability at the expense of quality. Others use packs of instant film, which produces fun results but can be very costly.
The Hi•Print – which is the first instant digital product to be released by Polaroid since its rebrand earlier this year – uses dye-sub printing for vibrant, consistent, fadeproof and waterproof photographs. Each all-in-one cartridge contains a color ribbon and 10 sheets of photo paper.
The printer produces credit card-sized 2.1 x 3.4 inches pictures with an adhesive back, making them ideal for sharing, scrapbooking, sticking on lockers and customizing laptops and other belongings.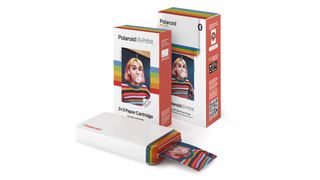 It's designed to work wirelessly via the iOS and Android app, which enables you to print photos directly from your camera phone or tablet – and of course, if your camera has Wi-Fi or Bluetooth, you can also beam your photos onto your device in order to print them.
Should you want to add further customization and creativity, the Polaroid Hi-Print app also enables you to edit your shots with tools such as filters, overlays, frames, text and stickers.
The Polaroid Hi•Print 2x3 Pocket Photo Printer is on sale now for $99.99 / £81.99 (AU$164.74), with double packs of Paper Cartridges delivering 20 prints for $16.99 / £15.99 (AU$29.27). For more information visit the Polaroid website.
Read more:
Polaroid Lab review
The best instant cameras – from best instax to best Polaroid cameras
The best photo printer: top regular and wide format photo printers
Best 3D printer
CEWE photo book review