Nothing, the brand behind the Phone (1) has teased its upcoming Phone (2) in an image, confirmed it will be launching in the US, and suggested an imminent release for the new handset.
When it launched, the Phone (1) schooled much of the competition when it came to smart camera configurations by fitting it with a quality dual camera as opposed to a substandard triple camera.
After Nothing drip-fed teasers about the upcoming Phone (2) over the last few days, we now know to expect flagship-grade power and similar dot-matrix-inspired, heavily stylized aesthetics to those first introduced on the Nothing Phone (1).
Phone (1) recap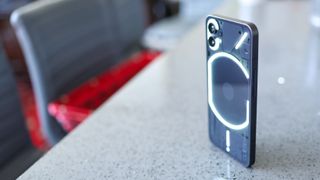 The Nothing Phone (1) was a hit for us at Digital Camera World. While other phones at its £399 price were shipping with mediocre secondary cameras, Nothing's ultra-wide 50MP module, which packed autofocus did a fine job, and its primary camera used the same quality Sony sensor as the flagship Oppo Find X5 Pro.
Nothing didn't just stop at making its camera specs shine. It also added wireless charging and water resistance to its phone. With Samsung dropping the ball with the similarly priced Galaxy A53 5G's lack of power, and the Pixel 6a missing out on wireless charging around the time of the Nothing Phone (1)'s launch. Nothing carved out a serious niche for itself very early on. And all that good stuff doesn't even account for the Phone (1)'s unique styling, loaded up with glyph lights and 8-bit sounds.
What to expect from the Nothing Phone (2)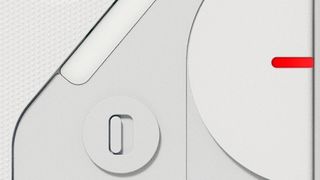 The Nothing Phone (2) has seen a few teasers drop. Firstly, based on the images we've seen of parts of the phone, it will bear a similar, though updated version of its heavily stylized design language introduced in the Phone (1). We can expect an LED notification light, and a notification slider too (see above), and the handset will almost definitely bring back those flashing light strips.
Next, we know that the Phone (2) will be the first phone from Nothing to launch in the US. This is something of a game-changer. After all, the US is notoriously difficult to crack, with many brands like Honor, Huawei, and Xiaomi failing to break into that market. The fact Honor has achieved a North American launch after just one generation is a huge deal for the industry – and also for fans of Nothing, and its outspoken founder, Carl Pei.
Finally, the Nothing Phone (2) will have a Snapdragon 8-series processor inside. The first Nothing Phone had midrange power with a Snapdragon 778G, and that's likely one of the ways Nothing managed to hit such an attractive price point. This year, we anticipate the Phone (2) will launch with either a current-generation Snapdragon 8 Gen 2, or last year's excellent 8+ Gen 1 – two high-end chipsets that have been unanimously well-received by reviewers.
So with a launch "around the corner", we shouldn't have long to wait before we know more about the Nothing Phone (2) and – most importantly for us – how its camera looks set to stack up against the best camera phones of 2023.
Best budget camera phones
Best Android phones
Best phones for video