Update - these two deals were first seen during Amazon's recent Prime Day earlier in the month - but the discounts at Amazon are no longer available. However, the good news is that the prices at Walmart on these two great beginner camera are better than Amazon…
There are a lot of great cameras in the Amazon Prime Big Deal Days sale, but most of them are advanced high-end cameras. What if you're looking for a beginner camera, though?
Well, I recommend heading straight to Amazon and checking out these two cameras – they're both tailor-made for those learning photography and beginning their picture-taking adventure. Both cameras come with lenses and, since they're in the Amazon sale, both are heavily discounted right now: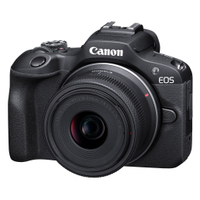 Canon EOS R100 + 18-45mm lens|$599.99|$489
SAVE $110 at Walmart Canon's most entry-level mirrorless camera is also its smallest and lightest – but it's still quite a beast! Its 24.1MP APS-C can shoot 6.5fps bursts and 4K 24p video, and it comes with a versatile 18-45mm lens (a 28.8-72mm equivalent in full frame terms).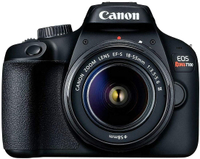 Canon EOS Rebel T100 + EF-S 18-55mm III | was $380 | now $333.99
SAVE $45 at Walmart This is one of the cheapest DSLR deals we've seen for ages – and a great budget buy for someone starting photography at college or as a hobby. Be aware that this lens is the non-image-stabilized version of the 18-55mm (a full frame equivalent 28.8-88mm).
The Canon EOS R100 is my favorite option here. While it's designed for beginners, it's actually Canon's very latest mirrorless camera – so it's packed with powerful features and technology. The R100 has a guided user interface where the menus are designed to help you unlock all the camera's potential (and yours with it), making this a great way to learn how photography works. The included Canon RF-S 18-45mm lens is versatile enough to get you shooting almost everything!
Another fantastic choice is the budget Canon EOS Rebel T100, as it's pretty unbeatable value. It's an older and cheapercamera, released in 2020, and it's a DSLR instead of a mirrorless – so it's reassuringly chunky, clunky and mechanical rather than a sleek and silent machine. But it still takes fantastic images and, while the interface doesn't guide you the way the R100's does, this is still a great avenue to learn the craft. The bundled Canon EF-S 18-55mm has a bit more range than the one included with the R100, but it doesn't have any image stabilization (to compensate for camera shake).
Take a look at the best cameras for beginners, as well as the best cameras for kids, and the best cheap cameras.