UPDATE: The Mars Perseverance rover from NASA may have only been on the surface of Mars for a few days, but it's already been hard at work collecting images of the Red Planet. The latest offering from the rover is an incredible 360º interactive 4K photo that enables the viewer to get a proper look at the area where the rover is situated.
The Perseverance rover has 19 cameras, which is the most possessed by any Mars rover to date. The video above was captured by the rover's color Navigation Cameras, or 'Navcams', which are on the remote sensing mast of the rover.
You can watch the video above to see the 360º image captured by Perseverance.
• Read more: Best camera drone
ORIGINAL STORY: The Perseverance rover from NASA has taken an image from the rover's 'jetpack' just before Perseverance touched down onto the surface of Mars. While the initial images shared from Perseverance were low-res and in black & white, the latest photos show the Red Planet in full color and a glorious amount of detail.
NASA has an official image gallery for the Mars Perseverance rover, which currently has 148 raw images for anyone to view and download. However, the official NASA's Perseverance Mars Rover Twitter account has also been sharing some exclusive images of its descent onto the planet.
To give a little more context to these images, NASA wrote a blog on the Mars landing. "Adding to the excitement was a high-resolution image taken during the rover's landing. While NASA's Mars Curiosity rover sent back a stop-motion movie of its descent, Perseverance's cameras are intended to capture video of its touchdown and this new still image was taken from that footage, which is still being relayed to Earth and processed."
Perseverance's primary objective for its mission on Mars is astrobiology research, including the search for signs of ancient microbial life. "The rover will characterize the planet's geology and past climate and be the first mission to collect and cache Martian rock and regolith, paving the way for human exploration of the Red Planet."
Discover more about the Perseverance rover here, or see more images from the rover's touchdown on Mars below.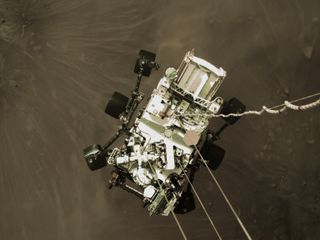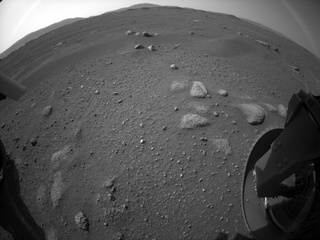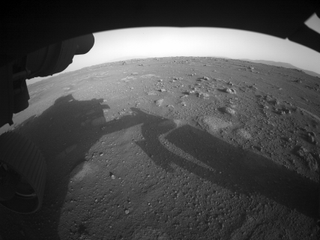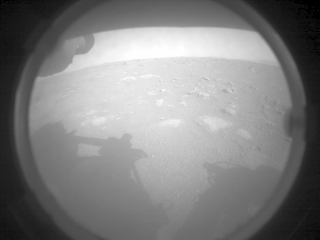 Read more
Best mirrorless camera
Best camera for astrophotography
Best lenses for astrophotography
Best CCD cameras for astrophotography
Best light pollution filters