A serene image of Carlos Salvador's whippet-like dog on a foggy beach in Spain has landed him first prize in the Canon Redline Challenge. Now in its third year this year's theme was 'Room to Breathe' giving amateur photographers from all over the world the freedom and flexibility to interpret it in a diverse variety of ways.
Captured on a morning walk at his local beach, Salvador's winning images has landed him one of the best Canon cameras - a Canon EOS R5, with a versatile Canon RF 24-105mm f/4 L IS USM lens. He will also receive worldwide recognition, his image will be published on the Canon website and it could be the kickstarter he needed to pursue a career in photography.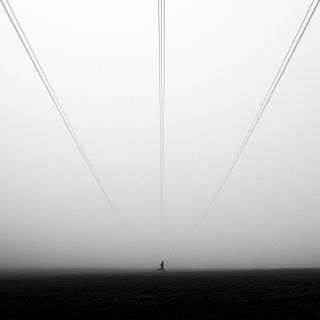 In total, 12 images made it to this year's shortlist including a minimalist monochrome shot of taken under power lines leading your eyes to a solitary runner taken by Lukáš Tycar, an aerial shot of a sled being pulled by six huskies creating a long, dark shadow on a snowy backdrop and Juris Zīgelis' thoughtful composition of light and shape of two people suspended above a well.
Commenting on this year's winning image, competition judge and Canon Ambassador Joel Santos recognized just how hard it is to capture a perfect portrait of your pooch posing. He commented, "The colors are perfectly balanced with the warm ochre tone of the sand juxtaposed with the cooler blue tones of the sky. Overall, the serene atmosphere of the image really spoke to us, a beautiful moment of reflection".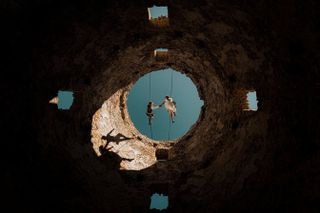 This year's brief was particularly tough as it was left wide open for interpretation but the judges were thrilled to see entries that elicited creativity from a wide range of genres including landscape, sport, portrait and fine art. The way in which artists decipher guidelines just goes to show how art has no rules; there is no right or wrong answer and one person's contribution can be equally powerful and moving even when entirely different.
Over 30,000 images from 50 countries were submitted to this year's competition making the task of picking an overall winner incredibly challenging for the judges but eventually, the tricky decision was made.
Next year marks the fourth year of the competition and the founders hope even more photographers from even more countries will enter with a new theme to tackle and even more reason to continue exploring, creating and challenging themself with their approach to photography.
Check out the best Canon RF lenses including a range of primes, telephotos, wide-angles and some specialist selections!