Lexar is launching a new range of bright red microSD memory cards that is targetted at gamers who need more storage for their Nintendo Switch consoles, or their Android smartphones. Called Lexar Play, the microSDXC cards will be available in four different memory capcities - from 128GB up to a whopping 1GB.
Using the UHS-1 class, the cards will all offer a maximum read speed of 150Mb/s. Interestingly the cards use different Application Operation Classes - the 128MB and 256MB versions are A1 rated, whilst the 512MB and 1GB cards are A2.
Both are they are optimized for the need to read lots of chunks of data quickly – as you need when using an app or a game (as opposed to having to read or write one big file, as is necessary when recording video). The A2 class offers minimum random read of 4000 IOPS (Input/Output Operations Per Second), while A1 cards provide minimum random read of 1500 IOPS.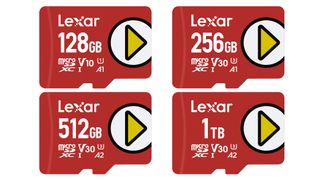 "The Lexar PLAY microSDXC Card is the perfect solution for gamers looking to take their game to the next level. It is compatible with the Nintendo Switch™ and other portable gaming devices including phones and tablets. With capacity options up to 1TB, you can continue to game without running out of storage space," said Joel Boquiren, General Manager of Lexar.
Lexar PLAY microSDXC UHS-I cards are available later this month for $21.99/£21.99 GBP (128GB), $45.99/£42.99 (256GB), $94.99/£89.99 (512GB), and $249.99/£249.99 (1TB).
Read more:
Best microSD cards in 2020
The best recovery software for photos & SD cards
How to understand everything written on your memory card