Ukraine's $541 million (approximately £439 million / AU$809 million) drone spend has flooded news channels with drone propaganda, but now it might be affecting the wider drone community. There have been many reports of different drones going into battle – rather fewer coming back – which means supplies are under strain.
A steady supply of FPV drone video clips have been shared by the SBU, the Ukraine's security service, often to somewhat inappropriate soundtracks. If there was any doubt as to what the drones do, the examples all have the tell-tale interference that indicates the recording was made remotely. Probably to a memory card on the goggles of a typical pair of analog FPV goggles. Analog video is relatively cheap and offers very low latency, so is still well suited to the fast maneuvers of FPV remote piloting.
• See our guide to FPV goggles for drone pilots
FPV drones are typically built from components by the hobby community. Motors, airframes, video systems, transmitters and the like are bought separately and assembled by enthusiasts. Now it seems some are creating production lines and the numbers are expected to rise.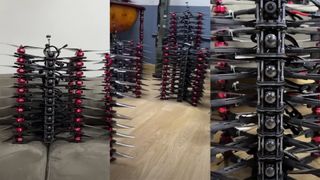 Images from a widely circulated video shows what the poster called 420 of 1,000 drones, but major news agencies are now talking of the similar ad-hoc building of 50,000 of these quads (each with fragmentation grenades).
These drones can reach over 100mph. The payload will be higher than the GoPro often seen on similar drones, but pilots will have no need to worry about saving the battery for the return.
This might well explain the recurring complaints about parts shortages in the FPV forums.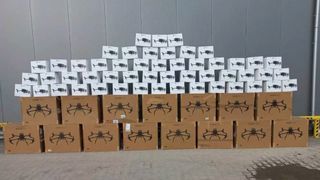 Donation of drones is also consuming major brands. Ukrainian oligarch Pavel Furks (or "philanthropist" as Ukrainian News puts it) has been credited with buying and supplying stacks of DJI drones. As well as those pictured, officials in Kiev have claimed that 300 Mavic 3Ts have been procured and sent to the front quickly.
This is problematic for the company not so much because of supply, but because it has publicly been clear that it doesn't want its drones used in this conflict; in a statement back in April 2022 it said, "DJI does not market or sell our products for military use." It also said that it would terminate business with resellers who didn't uphold this.
If FPV flying without war-like intent has sparked your interest, check out our best FPV drones guide. You might also be interested in the best cheap drones, and the best DJI drones.