The big advantage of square filter holders like the the Irix Edge IFH-100-Pro is that you can use multiple filters at the same time, and for landscape photographers a polarizing filter and a graduated filter are an essential combination.
The previous IFH-100 holder was designed to be as thin as possible to reduce or eliminate any vignetting with ultra-wide lenses and had slots for two square filters but not for a polarizer. The new Irix Edge IFH-100-PRO, however, adds a drop-in circular polarizer to meet the needs of landscape photographers everywhere.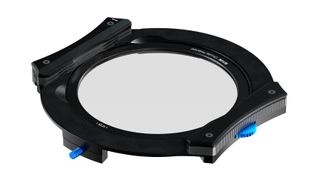 Polarizing filter advantages
Graduated filters are great for reducing the brightness of dramatic skies in outdoor shots, but a polarizer adds a different but often equally valuable effect. Polarizers are best known for darkening blue skies, but they can also cut through reflections in water and glass and reduce the sheen on polished surfaces, including glossy leaves, which enhances color saturation.
You need to rotate a polarizing filter for each shot to get the optimum result, and this can be a fiddly process when they are mounted in a square filter holder – but the Irix Edge IFH-100-Pro has a knurled external dial to make this easier.
This self-assemble holder has spacers to adjust the filter slots for regular 2mm filters or ultra-thin 1.1mm thick filters, which could be important with ultra-wide angle shots.
The drop-in Irix Edge IFH Polarizer filter is included. It uses the latest generation of tempered optical glass, has advanced anti-reflective coatings and has a Nano coating that repels dirt and makes it easy to clean.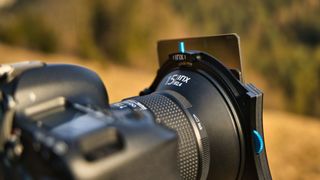 Irix IFH-100 PRO compatibility and availability
The IFH-100 PRO holder is compatible with most lenses, using screw-in adapters with diameters of 52mm to 95mm (sold separately) which cover the vast majority of common lens filter sizes. The dedicated adapter for the Irix 15mm f/2.4 lens is included with the holder.
This is not the first filter holder to take circular polarisers – its a common feature on the best filter holders from other makers – but it's the first from Irix, and it includes a dedicated adaptor for use on the Irix 15mm f/2.4 ultra-wide lens.
The Irix Edge IFH-100-Pro will be available from the end of February 2021 and will cost $190.
Read more:
• Best filter holders
• Best graduated filters
• Best polarizing filters
• Best ND filters