Clip-on lenses have really expanded the scope of smartphone photography, but making sure you've got the right one to hand may not always be practical.
I've enjoyed using the versatile Olloclip system for a while now, but on occasion fumbling with the various pieces has made me miss some potentially pleasing shots.
This scenario could soon become a thing of the past, though, with the launch of FusionLens 2.0. It's a capture kit for the iPhone X that uses a single clip-on lens and software to generate different image effects.
Attach the smart mount with lens to the phone, open the app and switch between 23:9 anamorphic and 8mm wide-angle views with a single tap.
But there's more – attach a second lens top the other side to the mount and turn your phone into a 360º camera with another tap of the app.
We haven't seen the physical FusionLens 2.0 capture kit yet but the results in this official video look pretty impressive.
The first generation of FusionLens offered 360° image capture capabilities and launched on crowdfunding website Indiegogo one year ago.
Now the FusionLens team is crowdfunding for FusionLens 2.0, which is available for iPhone XS, X, XS Max and XR, with delivery slated for March 2019.
Being able to flip between image capture modes on the fly without having to switch the lens is certainly a game-changer.
With aspect ratios of 2.35:1 or 2:40:1, anamorphic footage has a stylish, cinematic quality. FusionLens 2.0 offers a 23:9 aspect ratio; the 210º field of view is wide enough to capture both ends of a street.
The 8mm wide-angle mode is eight times wider than an iPhone's native camera view, so users can shoot breathtaking landscapes and augment portraits with stunning backgrounds. FusionLens says that wide shots in FusionLens 2.0 have a distortion-free perspective, so are just like seeing things in reality.
For 360° shooting applications, FusionLens 2.0 has the same capability as the original iteration, but the stitching quality has been enhanced. Other tweaks in the 2.0 version include 360° timelapse video and 360° mini video.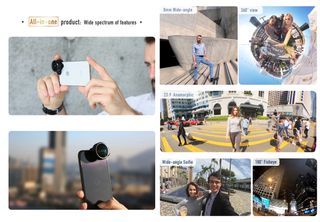 All this flexibility is down to improvements in smartphone camera resolution, processing power and ongoing developments in computational photography – the technology that has brought smartphone users the benefits of depth mode for studio-like portraits, as well as the Night Sight mode in Google's Pixel 3.
How does it work? The FusionLens algorithm reconstructs a 3D scene which is then transformed into a specific lens effect.
The 360º captures are facilitated by using the front- and rear-facing cameras together. The algorithm stitches together the images obtained from both cameras, synchronising the exposure and saturation to form a seamless 360° picture in 2:1 aspect ratio.
A 30-day pre-order window on Kickstarter is open now until 17 January, 2019. Click here for pre-order and product information.