Apple has officially announced the new iPhone SE – a pocket-friendly, pocket-sized handset that places the raw power of the iPhone 11 Pro processor in the chic chassis of the iPhone 8, with an attractive $399 / £415 / AU$749 starting price.
The unannounced Wednesday afternoon launch in the middle of a global crisis meant that the iPhone SE received relatively little fanfare, but there's plenty to shout about with this nifty little number – which might just be the best camera phone with a single camera, as well as one of the best budget camera phones.
As had been heavily rumored, the iPhone SE (a non-numbered successor to the 2016 iPhone SE, which featured iPhone 6 technology in the body of an iPhone 5) features iPhone 11 Pro tech in the form factor of the iPhone 8. This means that, while the iPhone SE only has one rear camera, it benefits from Apple's cutting edge software-driven imaging technology.
That rear camera is a 12-megapixel, 28mm f/1.8 wide-angle (with a 7MP selfie camera on the front), and uses the image signal processor and Neural Engine of Apple's A13 Bionic to perform the manufacturer's signature computational photography. That includes Portrait mode, all six Portrait Lighting effects, Depth Control and the new Smart HDR.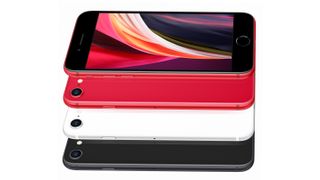 In terms of video capability the iPhone SE boasts optical stabilization on the front and rear cameras, with the latter capable of recording 4K at up to 60 frames per second. In addition, extended dynamic range is available up to 30fps and the new video editing tools (the same as those for photo editing) are also available.
In terms of the phone's other tech and features, it has a 4.7-inch Retina HD screen – making it, true to the SE lineage, the most compact of the lineup, with a smaller display than the iPhone 11's 5.8-inch screen (though nowhere near as small as the original SE's 4-inch screen).
The new SE also sticks with Touch ID, and a haptic home button, instead of the Face ID of recent iPhones. It also boasts Qi wireless charging, but ditches the headphone jack – a tragic departure from the previous SE.
The iPhone SE comes in 64GB, 128GB and 256GB storage options, and in three colorways: black, white and "(PRODUCT)RED". It will be available from 17 April in the US and 24 April in the UK.
Read more:
The best iPhone for photography in 2020: from the iPhone 7 Plus to 11 Pro
The best lenses for iPhone and Android phones in 2020: add on phone lenses
Best iPhone 11 cases: protect your phone from accidental drops and scratches