We've been seeing renders for months now, with camera phone leaks depicting the iPhone 11 with a big square 'bump' housing its new triple-camera array. Now a number of dummy models of the have made their way into the wild – and response to the production replicas has been less than enthusiastic.
The iPhone 11's new bump is a raised tile-like design, eerily reminiscent of the Apple Watch. It's set to house the company's much-anticipated three-camera setup featuring a standard, telephoto and ultra wide-angle lens.
• Read more: Best camera phones
While the new tech itself is welcome, many feel that its execution leaves a lot to be desired – including prominent technology vlogger, Marques Brownlee.
Here's the full video so you can watch for yourself…
"I love the mini-trend of adding an ultra-wide camera to these flagships," he says in his video hands-on with the dummy handsets. "So I'm a fan of the focus on the camera, pun intended, but I am not a fan of the way this looks."
Describing it as an "alien eye bug-looking camera bump", Brownlee points out that the design already looks unappealing on other camera phones, but the issue is exacerbated by the increased size of the array on the iPhone 11.
The decision to retain a physical raised bump, rather than having a slightly deeper chassis that makes the array flush, is another issue that the YouTuber has with the phone, echoing sentiments from many Apple consumers.
"Still having a camera bump, and not making it flush – I've said this before, you can make the phone a little thicker and have no bump, and that would be cool with me. I remember the days of the iPhone 5S not having a camera bump. But this still has a bump."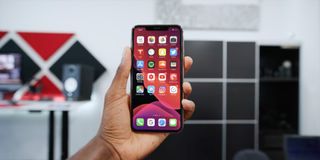 Disappointment with the new camera array would seem to equal disappointment with the device overall, since Brownlee identifies that as the only major change to the phone.
The iPhone 11 features a virtually indistinguishable selfie camera, it still features a Lightning rather than a USB-C connection, and the display is the same 5.8 or 6.5 inches on the standard and Max versions.
"I just don't really know if I buy that this is the best design for a new iPhone 11 that they could come up with… it kind of seems like they just mailed it in. It's just the same design with the new camera. It makes me wonder when we're going to see a new iPhone not designed by [Apple designer] Jony Ive."
Read more:
Smartphone news, camera phone leaks and mobile rumors
The best camera phone in 2019
10 amazing photos that prove the iPhone is one of the best camera phones
The best iPhone tripods and supports: turn your new iPhone into a camera king