CES 2019 was all about 8K this year, with many a manufacturer announcing some sort of 8K product.
But there was one company that decided to go not one, not two but three 'K' better. Insta360 announced a 360 camera that shoots 11K footage and it's an absolute beast.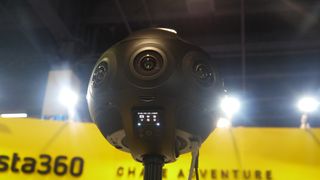 Titan is an apt name for this colossus of a camera. The basketball-sized device was one of the most impressive things at the show, and it wasn't just because of its size but the imaging power it houses.
In all, there are eight Micro Four Thirds sensors powering the Titan, which allows the 360 camera to shoot 11K at 30fps to create a 360 image. It can also create VR images, at 10K.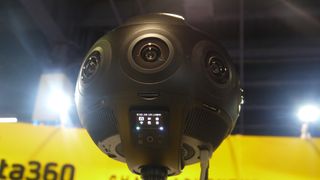 If you want to speed up the frame rates, then this can be dropped to 'just' 8K to shoot at 60fps. If your eyes can take the disappointment, this can be cranked down to a mere 5.3K at 120fps.
To make sure the footage that's shot is actually usable, there is a gimbal-like system built-in which Insta360 calls FlowState Stabilization.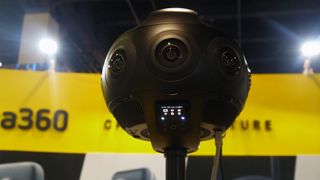 These numbers are both eye opening and mind boggling – this is a camera that means serious business.
Now, viewing an 11K image in its native resolution may sound impossible but Insta360 uses its own proprietary software, called CrystalView, to make sure you can playback this footage on a monitor or, if you want to, your smartphone.
You can also use your smartphone to monitor the footage being taken on the Insta360 Titan, using FarSight, some more proprietary tech that Insta360 has created.
As impressive as all this is, it's unlikely that you will actually own the Insta360 Titan. This is a product that has been created for professional filmmakers looking to produce the best VR or 360 movies they can. Because of this, it has a lofty price point, of $15,000. Or, $1,300 for each K that the Titan offers.