This year's Prime Day has been a strange one – as some of the best deals have appeared well into the second day. But if you are not looking for a new camera or new lens at this moment, but still want to find yourself a bargain in this year's Amazon sale before it ends (at midnight, PT) - then I'd recommend getting a digital photo frame.
Digital photo frames have been a hot thing to purchase in the last year - but I am surprised that I don't see them in more people's homes. I spend my life taking pictures, reviewing cameras, and drooling over tech – but these devices are some of the best things I have acquired in recent times. I have two in my home.
• See all the remaining Prime Day deals
What these digital frames allow you to do is to show your favorite photos on the LCD panel on a continuous loop. We find it a great way to see pictures of the family - and to relive our best holidays. The one in our kitchen inevitably creates a topic of conversation every meal time.
The two I have are made by Nixplay and Aura, who are leaders in these displays - and that's why I am recommending the frames below - which have significant discounts at Amazon US today (if you are a Prime Member, or take up a free trial to Prime).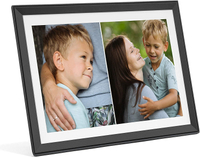 Aura Carver Smart Digital Picture Frame was $199 now $159
Save $40 This is 10.1 inch display has an ultra-high resolution 1920x1200-pixel LCD. The frame offers unlimited number of pictures to be shown thanks to unlimited free cloud storage - with your shot being uploaded via the phone app or via email.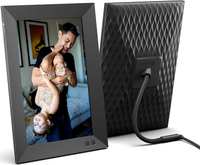 Nixplay 10.1 Inch Smart Frame | was $179.99 | now $125.99
Save $54 This ten-inch 1280x800-pixel display has a main cord that also works as a support, so it can sit on any surface in landscape or portrait orientation. If you prefer, you can also mount this on the wall. Images can be added to the frame via the phone app - but can also be added by email. A motion sensor turns the frame when you are not in the room.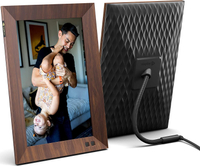 These photo frames are not like the digital frames from 20 years ago - so no need to muck around with memory sticks to get them working. You simply use the app on your phone, choosing the photos you want to show from those stored on your phone or tablet (which are sent over your home's wifi network) – making it super easy to keep your modern slide show up to date with all your latest shots. And they can play videos as well as stills photos - so you can relive those golden moments (even with sound, if you so choose).
Read more
• Best digital photo frames
• Best photo printers
• Best online photo printing
• Best photo books
• Best wedding albums