Photographer Glyn Dewis says his 3945 Portraits project is the realization of everything he's achieved in his career to date. He started the project earlier this year to honor and remember surviving British veterans of the Second World War, by photographing as many of them as possible and providing both them and their families with classic, timeless portraits.
As Glyn puts it: "I want children to learn what these great people did, and the sacrifices they made, so that it's never forgotten and – as so many veterans say to me – that it never happens again."
When Glyn started the project, he knew of no other veterans, apart from his grandfather and a family friend. He had to make initial contact on social media, by posting on Facebook's Normandy Veterans Family and Friends group page.
After introducing himself and setting out what he hoped to achieve, Glyn was put in touch with some veterans' families. Having gained the trust of a couple of members, he successfully conducted a couple of photoshoots and the project grew from there.
"Following through and returning with a print helped to build trust," says Glyn. "Veterans and their families know each other, so the word spread and thankfully now I'm the one being contacted."
After the launch of the 3945 Portraits exhibition at the Soldiers of Oxfordshire Museum in Woodstock, we asked Glyn to take us behind the scenes on the project.
Behind the scenes of the 3945 Portraits project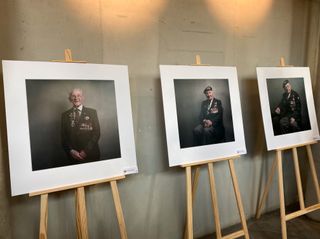 The series has a distinct and uniform aesthetic – how did you arrive at it?
Ultimately, I wanted to give veterans and their families a timeless, classic portrait – something that could stand the test of time and remain in the families for generations to come.
To me this meant keeping things simple. I spent a considerable amount of time looking at the work of photographers I admire – Annie Leibovitz, Yousuf Karsh and Mark Seliger, for example – and I could see that the vast majority of their iconic portraits were lit using one or, very occasionally, two lights.
I opted for the classic Rembrandt style of lighting because it has and never will go out of date but is also simple to set up and repeat. And perhaps most importantly of all, it has a small footprint – which is vital when almost all of the portraits are taken in the veteran's home.
The lighting setup is a Godox TT685s Speedlight with a 36-inch Westcott Rapid Box Switch Large Octa modifier, plus my 'Glyn Dewis Vintage Grey' artistic canvas background in a Westcott X-Drop Frame.
Tell us about Idwal Symonds, the subject of this portrait.
Idwal served in 46 (Royal Marine) Commando and is a veteran of the Normandy campaign. He was captured by the German SS and faced a firing squad – it's such an amazing story. To hear it, click here and scroll down to Idwal Symonds.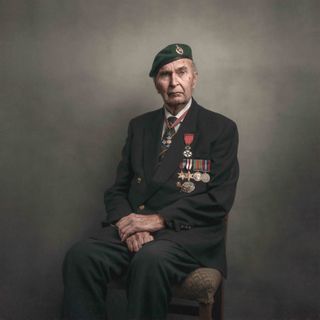 Was Idwal fazed by the camera, lighting and backdrop? Did you have to put him and the other veterans at ease?
He was very happy to participate, but he wasn't fazed at all by the camera and lighting. I try to make the whole experience as relaxed as possible and believe that this all starts by me not taking any equipment into the veterans' homes when I arrive. When I do eventually bring my kit in, I'm constantly chatting to the veterans as I'm setting up rather than leaving them to watch me in silence.
When actually taking the portrait, I always use a tripod so that I can frame up the picture and set the focus point. I keep chatting but slow my voice down – being calm definitely reflects on how the person being photographed feels.
I never get behind the camera but instead maintain eye contact with my head above the camera and finger on the shutter. I never take more than eight pictures for each portrait; instead, I choose to keep the whole experience calm and slow as opposed to 'run and gun'.
What kind of edits do you make to images afterwards?
The final look to the portraits comes from colorizing. I do this using a combination of adjustments in Photoshop but predominantly 3D look-up tables (LUTs). I came up with a technique to replicate the colouring from movies (Dunkirk and The Darkest Hour, for example) using Adobe Premiere Pro and how I could then use what I created in Photoshop.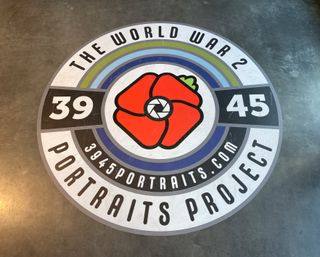 This is photography with a real purpose, and it has been deeply moving for you. How has the project been received?
The reaction has been quite overwhelming but best of all have been the reactions to the portraits by veterans and their families. To present a veteran in his late 90s with a mounted print and for him to say with tears in his eyes, "It's the best photograph of me that has ever been taken" is a reaction that money can't buy. I have shed more tears than I dare to admit from working on this project.
I must add, though, that the project is ongoing. I'm working harder than ever to ensure that I get to photograph as many of our WW2 veterans as I possibly can so that I can give them and their families a portrait to keep forever.
It remains a self-funded project and certainly is an investment in both time and money, but the price is insignificant in comparison to the sacrifice these wonderful people made all those years ago so that we can enjoy the freedom we do today.
It's a privilege to spend time with our veterans and it's a privilege to photograph them. It feels as though I was meant to do this and all that I have done in the past has been an apprenticeship to get me to this point.
View the 3945 Portraits until 5 January 2020
See The 39-45 Portraits Exhibition at the Soldiers of Oxfordshire Museum in Woodstock until 5 January 2020 .

Read more:
215 photography tips, video tutorials and techniques to take photos of anything
Studio portrait lighting: essential tips and setups
Essential portrait photography tips