One of the biggest drawbacks to regular circular filters is that lens filter threads come in many different sizes and you need to buy a filter for each. The REVORING gets round this with a clever spring-loaded retractable blade design that can fit a whole range of filter sizes.
The REVORING comes in two forms. The standard REVORING will simply act as a step-down filter that enables to fit larger circular filters on to a range of smaller filter threads. The REVORING Variable Neutral Density + Circular Polariser uses the same multi-size mechanism but consists of both variable ND and polarising filters (see below).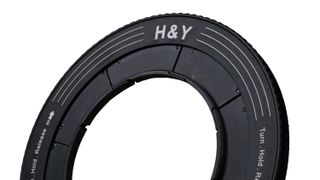 H&Y REVORING sizes
As it happens, a single REVORING size does not fit ALL filter threads. It would be a bit impractical (and expensive) to step an 82mm filter down to a lens with a 37mm thread, for example.
Instead, the REVORING will come in three sizes:
• 37-49mm, using 52mm filters
• 46-62mm, using 67mm filters
• 67-82mm, using 82mm filters
There is also a possibility of a larger 82-95mm size as a 'stretch goal', subject to funding.
The REVORING adaptor has two rings. You hold the outer ring and then turn the inner ring against spring pressure to extend the blades to create a smaller circumference for smaller filter sizes. You then hold the two rings in this position to attach the REVORING to your lens. As you release the spring pressure, the blades retract to fit the filter thread.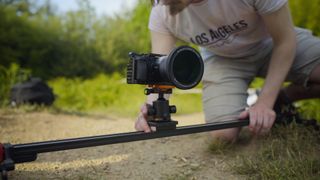 H&Y REVORING Variable Neutral Density + Circular Polariser
Variable ND filters and polarisers are traditionally sold separately, but they both use polarising filters and H&Y uses this fact to provide both types in one filter.
The variable ND strength can be varied between ND3-ND1000 (10 stops maximum) by turning a slim outer ring. The polarizing filter angle is changed using a larger ring with small milled metal lever. To use it, we imagine you would choose your desired ND setting and then adjust the polariser.
Production versions will have hard a hard stop for the maximum 10x ND effect and laser markings to help anticipate 'crossfade' effects at different focal lengths (a by-product of using paired circular polarisers for variable ND effects).
The REVORING Variable Neutral Density + Circular Polariser uses German Schott B270® glass with ​Anti-Reflective coating for up to 97% light transmission and designed for sharp images even with10 stop exposures. This filter also has Anti-Fingerprint & Waterproof Nano-Coating to helps with beading from water droplets and allow easier cleaning.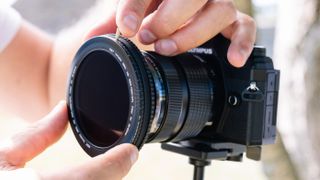 H&Y REVORING price and availability
The H&Y REVORING Kickstarter campaign launches on June 29 and will run for 40 days until August 8 2020. The release data has yet to be confirmed, but prices are expected to be as follows:
• Standard ​REVORING:​ USD $35-$45
• REVORING​ Variable Neutral Density + Circular Polariser: USD $184-$239
You can find out more at the H&Y Revoring website.
Read more:
• Filters, and why we need them!
• The best variable ND filters
• Best ND filters
• Best polarising filters