Canon has officially announced the Canon RF 85mm f/1.2L USM DS, the first ever Canon optic to receive a brand-new Defocus Smoothing coating for feathery soft rendition of background blur and bokeh.
The Canon RF 85mm f/1.2L USM DS has the same build and design as the standard Canon RF 85mm f/1.2L USM lens, with the exception of the DS coating that softens the hard edges and outlines of circular highlights (often called 'bokeh balls') in images and video.
The coating is "a vapor-deposited coating technology that has a high transmittance at the center and a low transmittance toward the periphery." While it softens out-of-focus areas further, we were told that it would not soften the focal point, so in-focus areas of the image will remain pin-sharp and unaffected (unlike a soft focus lens, which this categorically is not).
However, a by-product of the coating and defocus properties of this lens is that its light transmission is reduced. So while it remains an f/1.2 optic in terms of depth of field characteristics, Canon tells us that its effective transmission is cut down by around one stop at the widest setting.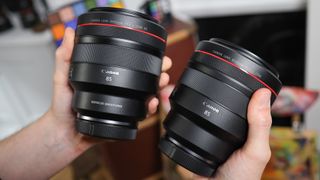 Canon explained to us that the DS coating is applied to both sides of a single lens element within the lens. Intriguingly, we were told that if the coating is only applied to a single side of the glass then only one half of the bokeh circle would become defocused (leaving the other half sharp), so the pricey coating has to be implemented on both sides to create the full effect.
Since, as Canon UK's product intelligence specialist David Parry told us, "the soft-edged bokeh isn't for everyone," the new DS version will sit alongside the manufacturer's existing 85mm f/1.2L, giving consumers the choice as to whether they want it or not.
Launched back in June, the Canon RF 85mm f/1.2L USM shares the same weather sealing, durability and comfortable operation as the new DS version. Both optics are identical in terms of build, ergonomics and specification, bar the new DS coating that affects the bokeh and transmission.
The Canon RF 85mm f/1.2L USM DS will be available from early December for £3,249.99 / $2,999; the non-Defocus Smoothing version is on sale now and is priced at £2,799.99 / $2,699.
Read more:
Canon RF 85mm f/1.2L USM review
Canon RF lens roadmap: everything we know so far
Canon EOS R review