Above: video clip from the movie Godland that shows the difficulties faced in taking just one photograph 150 years ago!
There have some been some great movies over the years that have had photographers as their central characters. From Hitchcock's thriller Rear Window, to Antonioni's Blow Up, cameras and photography have been keen parts of the plot of many remarkable cinema dramas. But for my money, the new art-house drama Godland has to be a new entry to the list of the best movies about image making.
Godland is set in the late nineteenth century, and its central character is a Danish priest who is sent to Iceland to build a new church. As a keen photographer, he takes his camera with him, and takes the scenic route to his destination so as to take his photos.
The film is packed with drama - love, hate, and death all feature - and there is even a wedding and a funeral. But it is a somber and tragic tale - told with breathtaking imagery by the director Hlynur Palmason and cinematographer Maria van Hausswolff.
Above: the trailer for the movie
But for me, as a photographer, it is the pains that the Lucas the priest has to go to to take his pictures that are the real attraction. The conceit of the movie is that he has taken just seven images on its trip, and the film shows you how each of them are taken.
He starts his voyage with a box full of around a dozen glass plates. And for each exposure he has to coat them with silver nitrate powder and other chemicals, before placing them in his mahogany plate camera. As soon as each exposure (lasting several seconds) is completed, he immediately has to develop the image on the plate in a separate portable darkroom. As you can see from the clip at the top of the page - it is a process fraught with difficulties!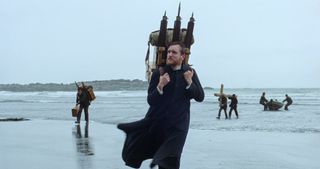 The whole film is shot in 4:3 format - with rounded corners - almost as if we are seeing the action unfold through the plate camera itself. We don't see the finished black-and-white photographs themselves - but instead see each frame as a part of the colored movie, as if we are viewing a cinemagraph.
Godland is currently on limited cinema release in the USA, and can be streamed in the UK through Curzon Home Cinema.
If you are looking for more films about photography, check out the 25 top films about fictional photographers, or if you want something more factual, see the 25 best movies about real photographers