Amazon Prime Day 2023 is here, and there are already some fantastic deals on cameras popping up, including a big discount on one of the best cameras for vlogging right now – the Sony ZV-1F.
The Sony ZV-1F is one of the best cameras you can buy right now if you want a simple-to-use camera that is able to create great-looking vlogs at the touch of a button, with video quality that is a step up from your phone.
Already a well-priced camera, but another $102 is being shaved off the price for Amazon's Prime Day, giving a big 20 percent saving on the usual price. With smaller margins to be made, it is unusual to see low-priced cameras with such significant discounts.
With its 1-inch sensor paired with a fixed 20mm lens, as well as its articulating screen, the Sony ZV-1F offers quality vlogs or family memories, both with 4K video and 20.1-megapixel images. The camera is also incredibly compact and can easily slip into a bag or large pocket for taking anywhere.
The ZV-1F also offers some of the best sound quality available on a camera without having to use an external microphone. The ZV-1F has a three-microphone array built into the top of the camera that picks up clear and directional audio and even comes with a furry wind cover for shooting outside and reducing wind noise.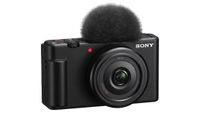 Sony ZV-1F | was $499 | now $397.99
Save $102 Sony's latest compact camera is designed with vloggers in mind and has a fixed super-wide 20mm lens to help get you in the picture. It shoots 4K and has a 20-megapixel 1-inch sensor.
Remember Amazon Prime Day 2023 – the big summer sale – started at midnight, July 11, and will run for 48 hours until midnight on Wednesday night, so snap up the camera now to make sure you don't miss out! We are also seeing loads more deals start coming in thick and fast, so keep checking back for more offers,
Find out more about the best cameras for vlogging or the best camera for video in our guides.