Studio flash experts Elinchrom have teamed up with the LED masters at Light & Motion to produce the Elinchrom ELM8: a portable yet highly powerful continuous location light.
Continuous lighting is great for shooting video, but is also a useful alternative to a flash when shooting stills, as it effectively gives you a live preview of the lighting characteristics you're shooting with, so there's no need to work out exposure settings or be at the mercy of TTL accuracy.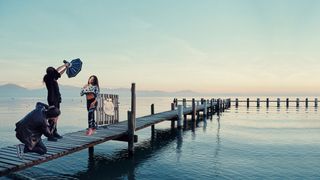 Headline specs for the ELM8 are a dazzling max power output of 8000 Lumens/16320 Lux at 1m. The built-in rechargeable Li-ion battery is good for a runtime of 50 to 245 min, and there's an external power option if needed.
The powerful COB LED in the ELM8 emits a 5600K colour temperature and is capable of a high colour rendering index of 93. Elinchrom also claims these figures should remain consistent at all power levels, with no risk of any flickering - something that can plague video.
Specifications
CRI - 93
TLCI - 94
Color Temp - 5600K
LUX - 16320 (at 1m w/Fresnel)
Light Output - 8000 Lumens
Native Beam Angle - 120°
Water Resistance - IP54
Impact Resistance - 1m
Runtime - 50 to 245 min
Weight - 1.2 kg (2.645 lbs)
Charge Time - 2 hrs (full charge)
Size - 20.5 x 9.6 x 9.6 cm (with battery)
Radio control - Skyport Protocol, 20 Frequencies / 4 Groups
Distance Range - up to 100m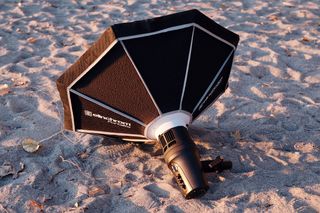 The ELM8 is compatible with all Elinchrom Q-Mount accessories, including the Q-Portalite Octa and Square umbrellas, as well as the Q-Wide Reflector and Q-Reflector Grid. An optional diffuser, fresnel, barn doors, and gel holder can also be had, plus there's an optional remote control, so you can control the ELM8 from up to 100m away.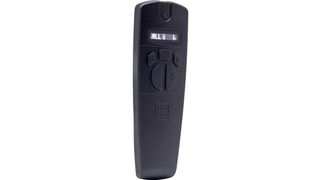 Adding to the ELM8's go-anywhere ability is its IP54 water resistance, and the light will even resist a drop from up to 1 metre. At 20.5cm long and 9.6cm in diameter, the ELM8 has been purposefully designed to match the dimensions of a 70-200mm f/2.8 lens, so should easily fit in most shoulder bags and backpacks. The 1.2kg weight is also comparable with a telephoto zoom, and is exceptionally lightweight for a location light with a built-in battery.
Pricing for the Elinchrom ELM8 is expected to be £1,299 / $1699 / €1379.
Read more: