In this digital age, why would any serious photographer want to mess around with a film camera? Well, it's not just nostalgia. There are still areas where film can be superior to digital, and one of the most obvious is large-format photography.
For this reason, many landscape photographers looking to exhibit prints at large sizes for gallery shows still use film, as do some commercial photographers shooting for giant billboards.
The best film cameras, however, are a little hard to come by these days, not to mention expensive. And while the first large-format digital camera was launched in 2018, in the form of the Largesense S911, the latest version starts at $85,000, which is well out of most people's price range.
It's intriguing news, then, that David Hancock – a film photographer, writer and YouTuber with more than 30,000 subscribers – has launched a Kickstarter campaign for an affordable large-format pinhole camera, designed to be built at home.
Original concept
Hancock, who's based in Denver, Colorado, USA, was inspired by a friend who'd lost a lot of dexterity in his hands and could no longer use the fine controls of his cameras, nor hold them without fear of dropping them.
It's a problem that's not uncommon, especially given that many people pursue photography in their later years, and a great example of how crowdfunding sites can help plug gaps in the market that large companies ignore.
So what is Hancock offering his backers, exactly?
Build it yourself
There are four different '5119 Cameras' on offer to Kickstarter backers, starting at $185 (approximately £133 / AU$250). All use sheet film as a way of achieving quality results while keeping construction simple. The estimated delivery date is December 2021.
You'll get everything you need to build the camera, other than some masking tape, which most people will already have knocking around anyway.
The cameras are made from custom-cut plywood, and lined with thick, black, light-absorbent felt instead of paint, to prevent light escaping.
The parts will arrive unfinished, with no stain, polyurethane, or similar treatment. This allows you to finish them however you'd like, or just leave them be. To our eyes, they actually have a kind of cool, DIY look to them as they are.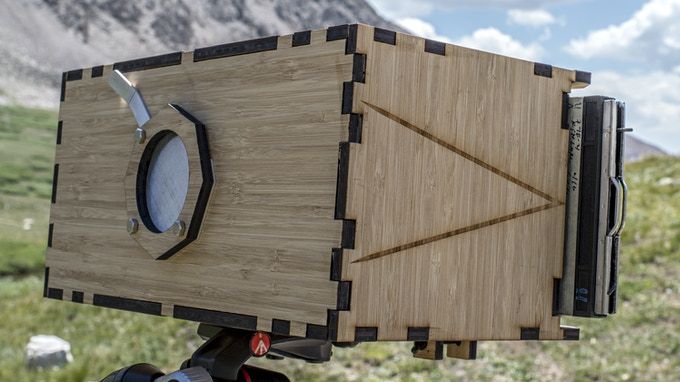 Why it's unique
This isn't the first time a crowdfunding campaign has been launched for a pinhole camera, but Hancock believes that the largest of his 5199 Cameras, the 410 Diptych, Model 1, is quite unique.
"To the best of my knowledge, no one has ever released a 4x10 camera on Kickstarter," he says. "Also, to the best of my knowledge, no one has ever made a 4x10 camera that can alternately take two 4x5 film backs and create diptych images.
"This camera took a lot of added engineering and development, and it stayed a secret until this campaign launched. This camera, a unique tool in the photographic world, aims to provide something that gives the photographer a panoramic pinhole option."
Should you buy one?
Hancock's campaign seems likely to succeed. At time of writing it's already raised 41% of its funding goal with 25 days to go, and Hancock's profile suggests it will get comfortably over the line.
So should you join the backers, and get started with large-format pinhole photography?
It's important to note that we've had no involvement in this project and nor have we seen any of the kits ourselves, so we're limited in the advice we can offer. Plus there's always a risk of losing your money when you back a project on crowdfunding platforms like Kickstarter and Indiegogo. In the past there have been a number of campaigns that have failed to deliver what they promised, and a number of companies have even gone bankrupt.
That said, Hancock seems to know what he's doing. His cameras don't rely on the kind of cutting-edge tech that can often scupper a project due to supply problems. And ultimately, he's got every incentive to deliver and keep his growing YouTube and social media audience happy. So on balance we'd see this one as a fairly safe bet.
To learn more about 5199 Cameras, visit the Kickstarter page.
Read more:
Best medium format cameras
Highest resolution cameras
Pinhole photography: make a pinhole camera at home