New York street photographer Sally Davies has been documenting the streets of Manhattan for 30 years, cycling or or walking through the city that never sleeps at all hours.
During this time, she has captured neighborhoods adapting to gentrification, coping with the aftermath of 9/11 and facing uncertain economic times, as well as the irrepressible "if I can make it there, I'll make it anywhere" optimism that pulls people to NYC in the first place.
Sally's new book New Yorkers gives the viewer access to the lives of more than 70 people, after they were immortalized in their apartments and studios in the photographer's unique style.
Accompanying the images are the testimonies and tales of each sitter – a cast that ranges from cab drivers, doctors, dancers and musicians to store owners, gallery owners, tattoo artists and drag queens – as they reflect on what it means to be a New Yorker.
The final photographs for New Yorkers were submitted in early 2020, just before Covid-19 hit, making the book even more poignant as a body of work.
We caught up with Sally ahead of publication to find out more about the project, its development and how it was executed.
What first motivated you to start shooting the people of Manhattan?
I have spent the last 38 years photographing Manhattan, mostly the Lower East Side, and mostly street stuff. That's something one can do without waiting for an invitation. You can go out any time of the day or night and shoot anywhere your heart desires, or your nerves can handle.
Having recently placed my work in the Museum of the City of New York's permanent collection, and my entire archive in the Fales Library Downtown Collection at New York University, I felt it was important to start documenting some of the people who lived in the buildings I had been shooting. The people who let me in to take their portrait did not disappoint.
How did you come up with the ideas for 'staging' your pictures?
I understood right away, in the first home I was in, that there was no point in trying to plan the photo beforehand. Their collectables, their furniture, their art, who they were, where they came from, was all right there. Once I understood that, I was in the flow. Arriving without a plan kept the work honest and about them, instead of me.
How did you set up your shoots?
I would send each subject a Q&A email ahead of time, with questions about their life and events that brought them to New York and to this apartment. Next, I would make an appointment and head to their home. I brought lights to the first couple of portraits, but they made people uncomfortable. I got rid of those and switched to an on-camera flash, and that solved the problem. An entire shoot never took longer than 30 minutes.
What was the biggest surprise for you when shooting this project?
We all wanted to get the book done and available for the holidays, so instead of the usual deadline, we aimed for a quick six months. As crazy as that was, somehow I got everyone photographed and delivered on time.
A few days after everything was handed in, Covid hit. New York went on lockdown and all the 2020 book fairs were cancelled, so New Yorkers was put on hold. I'm impatient and was disappointed to have to wait, but there was a silver lining.
Had I not hurried to get this done, the book would never have happened. There is just no way anyone would let me into their home to photograph them now, with Covid everywhere.
Is there a fun aspect to shooting these portraits?
Oh my God, it was so much fun! After shooting solo on the street for so many years, being invited into these people's homes was inspirational. It cemented what I already knew: that people for the most part are good and amazing.
What lenses do you use?
On the street, I usually use a fixed 28mm. I'm not a zoom person. The portrait project was an entirely different story. I realised after my first couple of home shoots that I needed a crazy wide angle to include everything necessary in the tiny apartment spaces. I settled on a Zeiss 18mm, and that was perfect.
New Yorkers by Sally Davies is on sale now
New Yorkers by Sally Davies is published by Ammonite Press, priced $36/£20 (ISBN 9781781454046).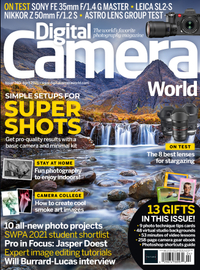 Digital Camera World is the world's favorite photography magazine. Every issue is packed with the latest news, reviews, tutorials, expert buying advice, tips and inspiring images. Plus, every issue comes with a selection of bonus gifts of interest to photographers of all abilities.
Read more
The best books on street photography
How to shoot street photography like a pro