It looks like the Canon EOS M5 Mark II could have in-body image stabilization (IBIS), according to a fascinating patent filed by the manufacturer in Japan.
It is even conceivable that, just as the smaller M-series cameras were the first Canon bodies to debut electronic viewfinders (not to mention a new benchmark 32-megapixel sensor), the Canon EOS M5 Mark II could even debut IBIS before its expected rollout in the full-frame R-series cameras.
• Read more: Canon EOS M5 review
The patent, discovered by a reader at Canon News, describes in-body image stabilization in Canon's smaller mirrorless bodies. While the company teased us that it is developing a Pro Canon EOS R with IBIS, and though it has previously registered an IBIS system for DSLRs, this is the first time we're seeing the technology earmarked for Canon's APS-C mirrorless cameras.
So why exactly do we think that in-body image stabilization is making its way to the (yet to be announced) M5 Mark II, in specific? Well, Canon's patents usually depict a very generic camera – either a 'could-be-anything' DSLR-styled shape, or simply a crude rectangle to denote a camera body.
In this case, however, the manufacturer is using first-angle projections of very specific camera bodies – in this case, one that looks identical to the EOS M5. And, given that the original doesn't have IBIS, the inference is that the technology relates to a successor.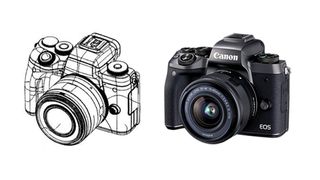 Additionally pictured is a second camera body that looks like the Canon PowerShot G1 X Mark III – which is, again, a camera that doesn't feature stabilization. So the natural conclusion is that IBIS is being designed that can be incorporated in a successor model.
It all makes sense, if you look at what Canon did with its EOS M product line last year. While the M5 had been the flagship M-series camera, it was spectacularly leapfrogged by the brilliant Canon EOS M6 Mark II – a camera whose predecessor had been junior in the line, but thanks to the massive new 32MP sensor and uncropped 4K video became the de facto flagship due to its new technology.
If we're to read between the lines – always a risky thing to do, of course – it seems that Canon might be saving the release of the true flagship until IBIS is ready to be incorporated in it. And if the Canon EOS M5 Mark II combines stabilization and an EVF with those 32MP and 4K features… we could have a real knockout camera.
What do you think – do Canon's APS-C mirrorless cameras actually need image stabilization, or should Canon be focusing its efforts on developing IBIS for the EOS R series? Would IBIS make the M5 a better rival for the Nikon Z50? Have your say in the DCW forums!