This Canon EF 24-70mm f/2.8L II USM is the perfect standard zoom for any full frame Canon EOS DLSR – especially if you're also looking at these amongst the Black Friday camera deals! B&H is selling the Canon EF 24-70mm f/2.8L II USM with $300 Holiday Savings right now, which is a terrific saving on a terrific lens.
This $300 saving is just one of many Canon Black Friday deals right now, and there are lots more Black Friday bargains to browse in the B&H Black Friday deals list!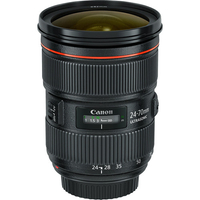 Canon EF 24-70mm f/2.8L II USM: $1,599 (was $1,899)
This is the top-end standard zoom lens for full frame Canon EOS DSLRs, and the one that every pro should have in their kit bag – but at this Black Friday price from B&H, you don't have to pay professional prices!
US deal
The Canon EF 24-70mm f/2.8L II USM is one of the three key lenses pros look for in their camera system. It covers a 3x zoom range from wide-angle to short telephoto and, crucially, offers a constant f/2.8 maximum aperture throughout. This lens also has Canon's legendary L-series optical quality, design and weatherproofing.
Read more:
The best Black Friday camera deals in 2019: here are all the biggest savings!
These are the best Canon Black Friday deals right now
See more B&H Black Friday deals